Traces of Paris's 2000-year-old Roman heritage can be found in a few places throughout the city – particularly at the Arènes de Lutèce, an arena built in the first century AD that was once a gathering place for sporting and entertainment.
The Gallo-Roman town of Paris (then known as Lutetia) was once quite large and prosperous, stretching from the Île de la Cité to the Left Bank.

The Arena
Around the end of the first century, the Romans built a place on the slopes of the Montagne Sainte-Geneviève outside Lutetia where they could enjoy a number of different pursuits, including circuses with live animals, sporting events, and theater. This spacious amphitheater is now known as the Arènes de Lutèce (French for Lutetia).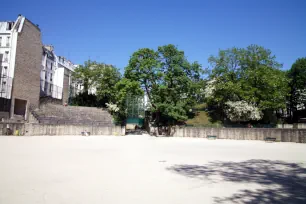 The amphitheater – one of the largest of its kind ever built by the Romans – was a sunken arena, surrounded by 2.5-meter-high (8 feet) walls. The stage was a whopping 41 meters (135 feet) long, and the presence of nine niches are said to have attributed to the good acoustics at the arena.
There were five cubbyhole-type indentations under the bleaches, some of which were believed to be animal cages that opened directly into the arena. Circus shows and gladiator events were thought to be popular, and nautical games were held here as well.
Seating accommodated about 10,000 audience members. Roman officials sat in comfort under an awning in the lower level of the amphitheater while women, children, slaves, and those of lesser financial status occupied the upper rows.
Its History
While the arena survived for a few hundred years as an amphitheater, it was destroyed around the end of the third century and eventually became a cemetery. Some of its building materials were used in other parts of the city. Around the year 1210, it was completed filled in.
Arènes de Lutèce was rediscovered in the 1860s during the building of a tram stop at the location. Author Victor Hugo subsequently spearheaded a campaign to save what was left of this Roman treasure. One-third of the arena was uncovered in the 1880s, and more was excavated around the end of World War I.
Now a public park and garden, visitors to Arènes de Lutèce will be able to view quite a few remnants of the once-grand amphitheater, including parts of the stage, the nine niches, and the barred animal cages. The city added the bleachers for the convenience of visitors. It's become a popular place for picnics and an impromptu game of football (soccer).