Located in the far north end of Paris in the 19th arrondissement, Parc de la Villette is a delightful park that offers amenities and attractions for the whole family.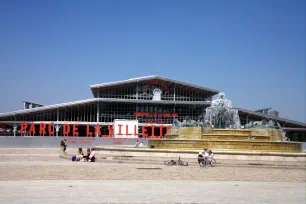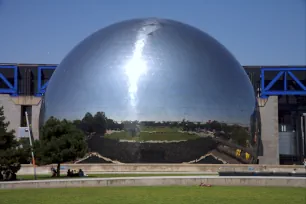 Travel guides for Paris often mention Parc de la Villette but admit that it is generally under-visited, perhaps due to its location at the far reaches of the city. While the nearby Parc des Buttes-Chaumont is much more charming, the Parc de la Villette is well worth a visit, mainly thanks to its cultural offerings.
Prairies
The largest park in the city of Paris proper, measuring 25 hectares (about 62 acres), Parc de la Villette was designed by Bernard Tschumi, who has taught at some of the world's best architectural schools, including Princeton and Columbia Universities.
Parc de la Villette certainly has plenty of open spaces, which are referred to as "prairies". The prairies are a popular location for games and picnics and some offer excellent views of the Canal de l'Ourq which intersects the park. During the summer, the Prairie du Triangle section of the park often offers open-air screenings of popular movies.
Thematic Gardens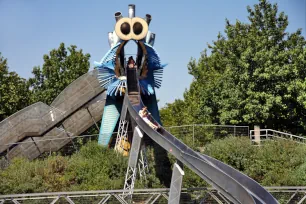 Ten thematic gardens can be found inside the park's boundaries as well, such as the dragon garden, mirror garden, and bamboo garden. Many are decorated with "follies" – buildings designed strictly as ornaments. There are 35 of these follies situated throughout the park.
Concert Halls
Visitors can also head to The Grand Hall, a former livestock arena that is now a cultural center and performance hall, redesigned by architects Bernard Reichen and Philippe Robert. The Zenith Concert Hall, situated at the east end of the park, is also an important performance venue for concerts. The Cité de la Musique, at the south entrance of the park, features yet another concert hall as well as a library, museum, conservatory and studios.
City of Science and Industry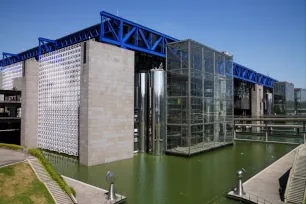 However, many visitors head to Parc de la Villette in order to visit Europe's largest science museum, Cité des Sciences et de L'Industrie (City of Science and Industry). The Cité, as it is called, was designed by architect Adrien Fainsilber and is made mostly of glass and iron. It opened in 1986 and includes a planetarium and many hands-on exhibits for the young and young-at-heart. The silver-skinned, 112-foot (34-meter) Géode that sits in front of the main building houses an IMAX Theatre that seats 370 visitors.
Another museum in the park – located near the Géode – is the Argonaute, a 1950s submarine annex Navigation Museum. The Argonaute was decommissioned in 1982 and converted to a museum ship in 1989.