St-Paul-St-Louis is a seventeenth-century church situated in the Marais neighborhood of Paris. The domed church was built by the Jesuits after a design inspired by that of the Gesù church in Rome.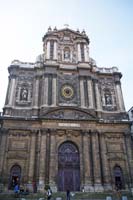 Saint-Paul-Saint-Louis
Construction of the church of Saint-Paul-Saint-Louis started in 1627, when King Louis XIII laid the first stone. Just fifteen years later, in 1641, the church was dedicated by cardinal Richelieu.
The church was built at the Rue St. Antoine, one of the old Roman roads in Paris and a main artery in the Marais.
Design
The church of Saint-Paul-Saint-Louis was designed as a monastery church by Étienne Martellange, a Jesuit friar. Its layout was based on that of the mother church of the Jesuits, the 16th century Gesù in Rome. The large octagonal dome was a first in Paris, and it would serve as inspiration for other structures, such as the Sorbonne chapel.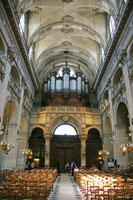 The nave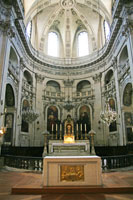 Main Altar
The three-level facade, with Corinthian columns and niches, was created by another friar, François Derand, who was probably influenced by the design of the nearby St-Gervais-St-Protais church, which has a similar facade.
Interior
The interior is the work of friar Charles Turmel. The church used to hold some beautiful artwork and precious relics, including the hearts of King Louis XIII and King Louis XIV, but those were all destroyed or removed during the revolution.
Of note are the grand organ, built in 1867, and a work by the French artist Eugène Delacroix: Christ on the Mount of Olives, painted between 1824 and 1827. The main altar dates from the eighteenth century and contains fragments of the Tomb of Napoleon in the Dôme des Invalides.
Saint Louis and Saint Paul
The church Saint-Paul-Saint-Louis was originally dedicated to just one saint, St. Louis. In 1797 the church of Saint-Paul, located nearby in the rue St. Paul, was demolished, and the two parishes were amalgamated. In 1802 the clock of the St. Paul church was placed into the facade of the St. Louis church, which was subsequently renamed in honor of both St. Paul and St. Louis.