The Place des Victoires, an elegant square with symmetrical architecture, is one of the oldest royal squares in Paris. At its center stands an equestrian statue of King Louis XIV, the Sun King.
Creation of the Square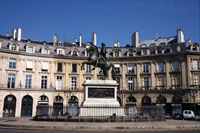 Place des Victoires
The Place des Victoires was laid out by the order of François d'Aubusson de La Feuillade, a French Marshal who wanted to stand in the good graces of King Louis XIV.
The sole purpose of the square was to provide a perfect backdrop for a new statue of the king. In 1685, Jules Hardouin Mansart, the court architect who also worked on the Versailles Palace, designed the harmonious curved facades of the houses that surround the square. The proportions of the houses were carefully designed in relation to the statue of the reigning King.
The Statue of the Sun King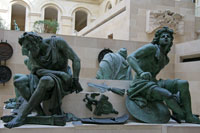 The captives of the
original monument
The statue of Louis XIV – known as the 'Sun King' – was installed at the center of the square in 1686. It was created as part of a memorial that commemorated the Treaties of Peace of Nijmegen (1678-1679), which ended the war between France and several other European nations.
The 12-meter-high (39 ft.) monument showed the king triumphantly standing on a pedestal. At the king's foot rested captives, allegorical representations of the countries that were defeated by France: Spain, the Holy Roman Empire, Brandenburg and the Dutch Republic. The bronze statues, created by Martin Desjardins, were gilded.
The Present Statue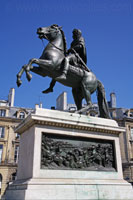 The present statue
of King Louis XIV
In 1792 revolutionaries tore the king's statue down and melted it to make cannons. In 1822 King Louis XVIII commissioned François Joseph Bosio with the creation of a new statue of King Louis XIV to replace the original.
Bosio created a bronze statue which bears no resemblance to the statue that first graced the square. It shows the king astride his rearing horse. The pedestal is decorated with two large bronze reliefs that show a battlefield scene (the crossing of the Rhine river in 1672) on one side and King XIV who initiates the creation of the Military order of Saint Louis in 1693 on the other side.
The statues of the prisoners survived the French Revolution – even though they lost the gilding – and are now on display at the Cour Puget in the Louvre Museum.