The Fontaine Saint-Michel is one of Paris's most monumental fountains. The fountain symbolizes the triumph of good over evil, represented respectively by archangel Michael and a demon.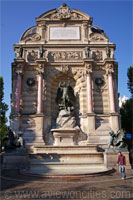 Fontaine Saint-Michel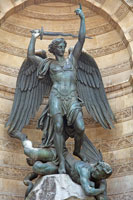 St. Michael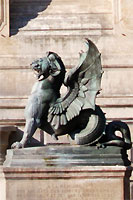 Dragon
The fountain graces a wall bordering Place Saint-Michel, a square on the left bank of Paris that for many is the starting point of an excursion into the Latin Quarter.
Creation
As part of his project to redevelop and beautify Paris, Baron Haussmann commissioned architect Gabriel Davioud with the creation of a new monumental fountain to mask a blind wall. Davioud, probably inspired by famous fountains such as the Trevi Fountain in Rome and the Medici Fountain in the Jardin du Luxembourg, created an impressive masterpiece, decorated with plenty of sculptures and ornaments.
The Fountain
Davioud's fountain is huge in scale: it measures 26 meters high and 15 meters wide (85 x 49 ft). The centerpiece is the bronze statue of St. Michael. The archangel is shown in Roman garb, brandishing his sword of fire and seemingly ready to strike the demon. The sculpture group, a work of the French sculptor Francisque Duret, stands in a niche and rests on an artificial rock.
On either side of the niche are Corinthian columns of red marble. There are four columns in total, each bearing a statue representing one of the four cardinal virtues: Prudence, Fortitude, Justice and Temperance. Each of these statues was created by a different artist. Above the statue of St. Michael is a frieze with reliefs of festoons and putti. Above, a large marble plaque shows the year of dedication, 1860, inscribed in Roman numerals. At the top of the fountain are two allegorical statues of Might and Moderation, flanking the emblem of Paris.
In front of the fountain, to the left and right of a large basin, are two ferocious looking water-spouting dragons. The statues were created by Henri-Alfred Jacquemart, a sculptor who specialized in the creation of animal statues.