The Medici Fountain was originally created in the seventeenth century in the Luxembourg gardens for Maria de' Medici, Queen of France. The romantic fountain is decorated with allegorical statues.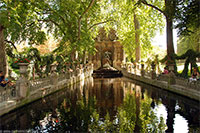 Fontaine Médicis
Just five years after the death of her husband, King Henry IV of France, Maria de' Medici had gotten tired of life at the Louvre Palace and ordered architect Salomon de Brosse to construct a new palace in the Florentine style, similar to the Pitti Palace in Florence where she had spent her youth. The palace garden, now known as the Luxembourg Garden, was laid out in similar fashion to resemble the Boboli Garden of the Pitti Palace.
Italianate Grotto
Tommaso Francini, a Florentine engineer, built an aqueduct to supply the fountains in the Luxembourg Garden with water. The largest fountain looked like an artificial cave; its design was most likely inspired by the grotto of the Boboli Garden.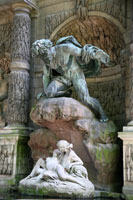 Polyphemus surprises
Acis and Galatea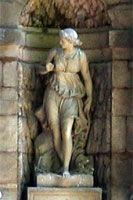 Diana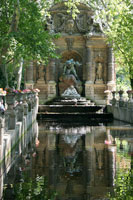 The Basin
The grotto fountain, now known as the Fontaine Médicis or Medici Fountain, was probably created by Salomon de Brosse. It is adorned with columns and completely covered with reliefs that simulate water seeping from rock walls. The arched pediment originally featured two allegorical figures created by Pierre Briard.
The Statues
The statues in the niches were added much later. It was only in 1800 that a first statue – one depicting the goddess of love, Venus – was installed in the central niche.
In 1866 the white marble statue of Venus was replaced with the current composition, 'Polyphemus Surprising Acis and Galatea'. It shows the mythological figures of the lovers Acis and Galatea in white Carrara marble. The jealous cyclops Polyphemus observes the couple from a ledge. The statues were created in 1864 by Auguste Ottin.
The central sculpture group attracts all the attention, but there are four more statues on the fountain that are worth a look. The two statues that stand in the side niches were also created by Ottin. The one on the left shows Faunus, the god of the forest. The statue on the right shows Diana, goddess of the hunt.
The original statues on the pediment were replaced by nineteenth-century allegorical figures that symbolize the rivers Seine and Rhone, works of Claude Ramey and Francisque Duret respectively.
The Basin
Around the same time that the statues were installed, a large rectangular basin surrounded by stone vases was built to replace the original circular basin. Two rows of plane trees were planted along the length of the new basin. They provide ample shade and give the fountain its romantic air.