The Parc des Buttes-Chaumont is one of the many great parks in Paris, but it sticks out because of its location on a rocky hill.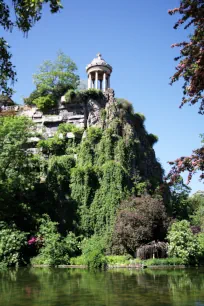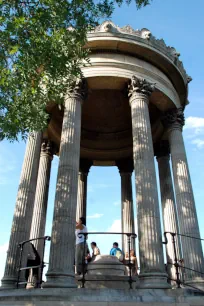 Thanks to the park's geographical relief with distinct elevations, you have great panoramic views over Paris, including views of the Sacré-Cœur. This makes Buttes Chaumont one of the Parisians' favorite parks, especially popular for strolls and picnics during weekends.
Creation
Before the nineteenth century, the area was less attractive as it once featured gallows where criminals were executed. Later it became a lime quarry and until 1862 it was used as a public waste ground. That year, the site was bought by the city of Paris.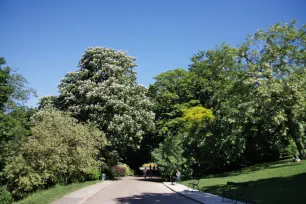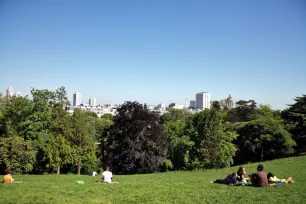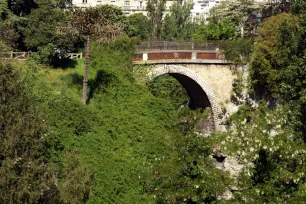 Napoleon III decided to create a park in the working-class neighborhood which had just been annexed to Paris. He turned to baron Haussmann who designed the park together with Adolphe Alphand, a landscape architect. After four years of construction, the park was officially opened as part of the festivities during the Universal Exhibition in 1867.
Dramatic Reliefs
Using dynamite to create dramatic reliefs, Haussmann created a romantic park featuring a large rocky cliff with a 32-meter (105 ft.) waterfall plunging into a circular lake. On top of the cliff is the Sybille temple, a small temple modeled after the ancient Roman Temple of Sybil in Tivoli, Italy.
The 24.7 hectares (61 acres) large park also boasts a grotto, a 63-meter-long (207 ft.) suspension bridge and the 'suicide bridge' which is more than 30 meters (98 ft.) above ground level. The park's five kilometers (three miles) of walks also lead you past lawns and a large variety of plants and trees.
Location
The park is located in the 19th arrondissement at the Rue Botzaris and has two metro entrances: Botzaris and Buttes Chaumont.