Most people consider the nineteenth century Pont Alexandre III the most beautiful bridge in Paris. It is without a doubt the city's most opulently decorated bridge.

Alexander III bridge
Orientation
Construction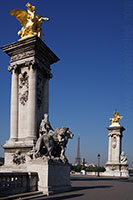 Pylons with
gilded statues
The bridge was built at the end of the nineteenth century as part of a series of projects undertaken for the Universal Exposition of 1900. The exposition took place on either side of the Seine River, and the new bridge would enable the millions of visitors to more easily cross the river.
Construction of the bridge, designed by the architect Jean Résal and executed by the engineer Amédée Alby, took almost three years. The structure was first prefabricated in a factory and later transported and assembled by a large crane.
One of the requirements for the bridge was that it should not obstruct the view towards the Invalides and Champs-Élysées. This resulted in a very low 40-meter-wide (132 ft.) bridge with a single 107.5-meter-long (353 ft.) span and a height of only 6 meters (20 ft.).
Ornaments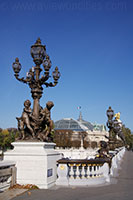 Lampposts
The bridge is lavishly decorated with lampposts and sculptures of cherubs and nymphs. On each end of the Pont Alexandre III are large gilded statues on 17-meter-tall (56 ft.) granite pillars. Each of the ornaments on the bridge was created by a different artist.
Tsar Alexander III
Even though construction of the bridge only started in May 1897, the first stone was already laid by the Russian Tsar Nicolas II in October 1896. The bridge – which was to symbolize Russian-French friendship – was named after his father, Tsar Alexander III.
Universal Exposition of 1900
The Pont Alexandre III opened just in time for the Universal Exposition of 1900 together with several structures that still stand today, like the Gare d'Orsay, the Petit Palais and the Grand Palais. The exposition would attract an impressive 50 million visitors.