Paris's Grand Palais (Great Palace) is a magnificent exhibition hall that was built for the World Fair of 1900. The building is best known for its enormous glass roof. It is home to a science museum, the Palais de la Découverte.
Building the Palace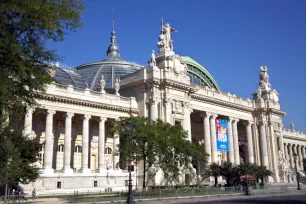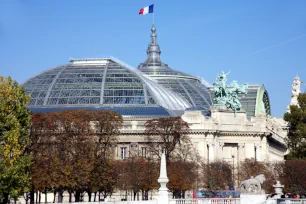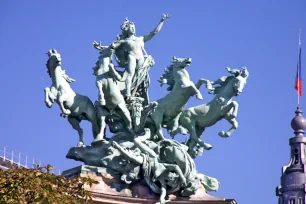 In 1900, Paris was playing host to the World's Fair. Because of the importance of the event, the city undertook a number of building projects, which included the construction of the Pont Alexandre III, the Grand Palais and the smaller but similar Petit Palais.
The Grand Palais is one of Paris' most recognizable landmarks thanks to its magnificent glass-domed roof. It was the work of three different architects, but the project was overseen by famed French architect Charles Girault, who was then given carte blanche to design the Petit Palais. The building is a beautiful combination of a classicist stone facade, Art Nouveau ironwork and glass.
The Grand Palais is currently the largest existing ironwork and glass structure in the world, a title once held by London's Crystal Palace, which was lost in a fire. This palace with the Belle Époque-style pinnacle boasts 9,400 tons of steel framework, 15,000 square meters (162,000 sq. ft.) of glass, and about 5,000 square meters (5,400 sq. ft.) of galvanized iron/zinc roofing. The exterior is made of stone and features beautiful colored mosaics and intricately sculpted statues.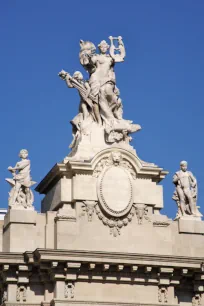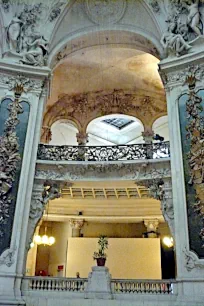 Renovations
After one of the Grand Palais's glass ceiling tiles fell in 1993, the building was closed for more than a decade for renovations. The first portion reopened in 2004, the remainder in 2007.
Renovations included repair of the metal framework, replacement of the glass, and the repairing and recovering of the roof. Some of the artwork in the Grand Palais artwork also got a facelift, including Georges Recipon's galloping horse sculptures at the top of the building's corners. The mosaics were also completely repaired and restored.
What's Inside?
For more than one hundred years, the Grand Palais has been a public exhibition hall and host to a variety of grand events. Though the main gallery is now a designated site for displaying contemporary art, you'll see everything here, from antique car shows to fashion extravaganzas from some of Paris's top designers.
There are actually three different areas in the Grand Palais, each with a different entrance: the Palais de la Découverte (a science museum) is at the Avenue Franklin Roosevelt, the Galeries National du Grand Palais (an exposition hall) has an entrance at the Clémenceau Square and the entrance to the Nef du Grand Palais (an event hall) is at the Avenue Winston Churchill (opposite the Petit Palais).