The Hôtel de Ville, Paris's city hall, is the center of political Paris. Like Paris, it has been through some turbulent times.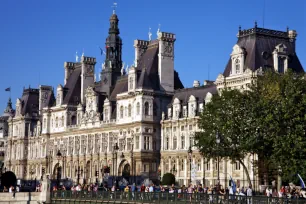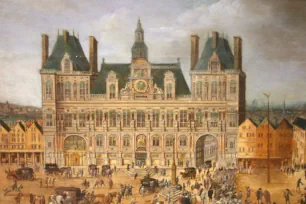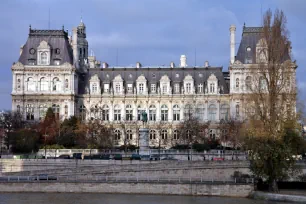 Until 1141 when water merchants created the port de Grève (Shore Harbour) to relieve Paris's busy port, the site was merely a shingle beach. The square near the harbor was known as the 'place de Grève'.
Design
In 1246 the first municipality was created when the Parisian trade guilds elected aldermen as representatives towards the King. There was no municipal building until 1357 when one of the aldermen, a water merchant, bought a house near the place de Grève.
The two-storied building featured two towers and arcades. Known as the House of Pillars, it served as a meeting place for the aldermen.
In 1553 King Francis I decided to build a dedicated city Hall. That first Hôtel de Ville, designed in the Renaissance style, was only fully completed in 1628.
Destruction and Reconstruction
A revolting Commune which had occupied the Hôtel de Ville for months set the building on fire in May 1871, destroying the building as well as the valuable city archives.
Shortly after the Commune was defeated by federal troops, the city government held a competition for the construction of a new city hall. The architects Théodore Ballu and Edouard Deperthes won this competition with their proposition to reconstruct the Hôtel de Ville in its original style.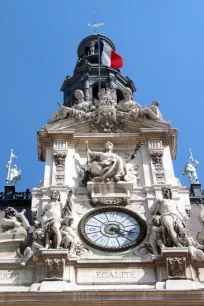 Funded by a national subscription, construction started in 1873. Nine years later, the new Hôtel de Ville was officially inaugurated.
Statues
The building is decorated with 108 statues, representing famous Parisians. Thirty other statues represent French cities. The clock at the central tower is adorned with several feminine sculptures representing the Seine River, the city of Paris, «Work» and «Education».
Interior
The interior of the city hall is decorated in a pompous IIIe Empire style. Noteworthy are the large staircase, the long Salle des Fêtes (ballroom), the painted ceilings and walls, the stained-glass windows and the numerous chandeliers.
The Square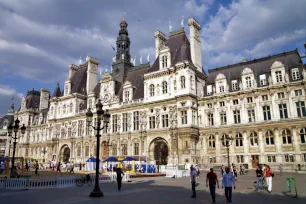 From 1310 on, the Place de Grève was the square where most of the executions in Paris took place. Here people were beheaded, quartered, cooked up or burned at the stake. In 1792, a guillotine was installed. It would prove itself useful during the French Revolution. The last execution took place in 1830, after which the square was renamed Place de l'Hôtel de Ville.
The square was later enlarged to its current size by Baron Haussmann, as part of his modernization of Paris. In 1982 the large square became a pedestrian zone.
Location