The Cité de l'Architecture et du Patrimoine is an architecture museum that gives an overview of – mostly French – architecture from the twelfth century to the modern architecture of today.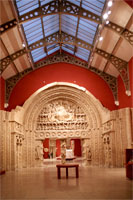 Cité de l'Architecture
The Cité de l'Architecture opened in 2007 in the east wing of the Palais de Chaillot (Chaillot Palace) after the museum's predecessor – the Musée de Monuments Français (Museum of French Monuments) – closed in 1995 after a fire caused significant damage to the building.
The Museum
The Cité de l'Architecture et du Patrimoine was created by combining three architectural institutions. It has a diverse collection consisting mostly of casts, wall paintings, stained-glass windows and models. The museum comprises three main sections, described below.
Plaster Casts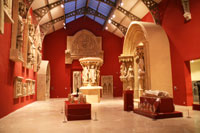 Gallery of Casts
The Cité de l'Architecture et du Patrimoine owns a large collection of plaster casts of historic monuments, most of which were made in the late nineteenth and early twentieth century for the Musée de Sculpture Comparée (Museum of Comparative Sculptures). This museum was founded in 1889 by Viollet-le-Duc – known for his restoration of the Notre-Dame – and opened in the Trocadéro Palace, which was later demolished to make place for the current Palais de Chaillot. After the International Exhibition of 1937 the collection found a new home in the Musée de Monuments Français, now part of the Cité de l'Architecture et du Patrimoine.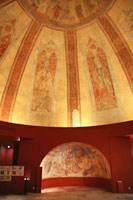 Dome of the
Cahors Cathedral
The casts are arranged in chronological order starting from the twelfth century and ending at the eighteenth century. They show statues and sections of important French buildings such as a portal of the Chartres Cathedral, a pillar of the Strasbourg Cathedral and the portal of the twelfth-century church of Saint-Fortunat.
Wall Paintings and Stained Glass
A large part of the museum consists of reproductions of historic murals, created in the 20th century for the Musée de Monuments Français. A tour through the wall paintings gallery will lead you through mock crypts, chapels and halls, all decorated with impressive painted wall murals. The gallery also displays a small collection of stained-glass windows and contains some magnificent replicas, including one from the famous Chartres Cathedral.
Modern and Contemporary Architecture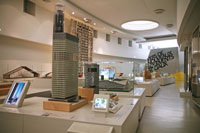 Modern Architecture Gallery
The Gallery of Modern and Contemporary Architecture has models, sketches, plans, photos and multimedia displays that illustrate the history of architecture since 1851. It is mainly focused on architecture in France and its territories, and covers buildings such as Auguste Peret's Rue Franklin Apartments and Renzo Piano's Tjibaou Cultural Center in New Caledonia. There's even a complete construction of an apartment Le Corbusier designed as part of his Cité Radieuse in Marseille.