Referred to as the "Emerald Doorstep to the Metropolis", New York's expansive Battery Park has undergone much renovation during the last decade, making it better than ever!
Location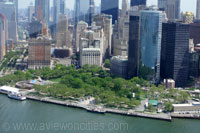 Aerial view of Battery Park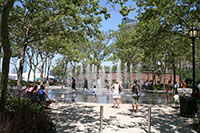 Fountain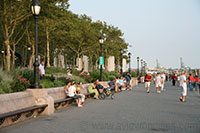 Waterfront
The 23-acre/9ha waterfront Battery Park is the largest public open space in the Downtown section of Manhattan. The park is located at the tip of Manhattan, causing many to refer to it as the city's "front lawn". The peaceful park faces the vibrant waterfront on one side and the bustling section of Manhattan known as – what else? – The Battery, on the other.
It is within walking distance of many businesses – making it a popular lunchtime hang-out – and is within close proximity of many of the city's finest attractions, including South Street Seaport, The New York Stock Exchange, and the Staten Island Ferry. An estimated quarter-of-a-million people work just steps from the park and more than 35,000 individuals live within walking distance of this welcoming green space.
History of the Park
When Dutch settlers landed in "New Amsterdam" in 1623, the area was given its name because a "battery of canons" was set up there to defend the new city. Over the years, the land was enlarged as was the fortification, and Castle Clinton was built in anticipation of the War of 1812 and the need to defend the city.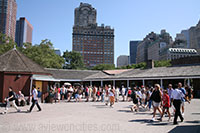 Castle Clinton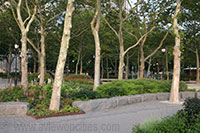 Battery Park
Two centuries later, the park was even larger, encompassing the Castle Gardens, and due to its waterfront location, became the first immigrant receiving station in America, welcoming 8.5 million immigrants before being replaced by Ellis Island.
At the turn of the century, the castle became the New York Aquarium, but the park soon suffered from decades of neglect and Castle Clinton was nearly totally demolished in 1941. Conservationists, however, succeeded in declaring the castle remains a National Historic Monument by 1946. Thirty years later, the National Park Service restored it to its fortification appearance and it currently houses a small interpretive center and serves as a ticketing center for the Staten Island Ferry.