From one man's dream of building a "fine" dry goods shop came the world's largest department store and one of the most famous ever built.
History of Macy's Herald Square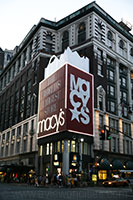 When Rowland Hussey Macy opened his "fancy dry goods" store in 1858 on New York's 6th Avenue, little did he know that his name would long be associated with one of the most legendary stores in retail history.
That little Macy's store paved the way for a number of firsts, and New Yorkers soon began to flock to the store with the big red star logo (inspired by a tattoo that Mr. Macy sported) for the finest in shopping experiences.
In 1862, the R. H. Macy Co. was the first department store to have an in-store Santa at Christmastime. Soon after, Mr. Macy began decorating his large windows with huge displays that would attract the attention of passers-by and prompt them to come in and browse or purchase some of his top-quality items. Macy also made headlines in 1866 when he promoted a female retail executive to the position of store manager.
Expansion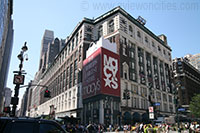 By 1902, Macy's had outgrown their 6th Avenue location and found it necessary to move to a much larger location at 34th and Herald Square. Still the present location of the store, this Beaux-Arts building was actually built in three stages.
Bob Rutan, archivist for the department store, notes that the first section, which went half a block back from Broadway towards 7th Ave. was built first. The second part was completed in 1924 and went back to a row of 7th Ave. storefronts. The last section was completed in 1938 and replaced the storefronts on 7th Ave.
Macy's expansion drive hit a stumbling block when the owner of a small five-story building at 34th and Herald Square – a hot dog lunch counter – refused to sell his property to Macy's. So Macy's decided to build around the store. The building is now disguised as a large Macy's shopping bag, but it remains a different building and store.
The World's Largest Store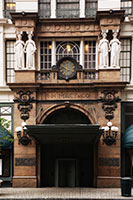 Macy's Entrance
When the 1924 section was completed, Macy's became the largest department store in the world and retained that designation for eighty-five years. With ten stories and nearly a million items for sale, finding your way from department to department can be a daunting task!
The building still sports the majestic statues that guard the entrance, placed there in 1902, and still draws crowds who enjoy peering into its elaborately decorated windows, especially at Christmas, when they're resplendent with moving figures that tell a favorite holiday story.
Other Macy's Notables
Everyone in the U.S. and many people abroad recognize Macy's for its connection with the annual Thanksgiving Day Parade. Actually, the parade – which began in 1924 – was originally called the Christmas Parade and was started by Macy's as a way to attract customers to their new store.
Macy's Herald Square was also the setting for the 1947 classic film, Miracle on 34th Street, which touted the store as home to "the one and only true Santa Claus". The film has enjoyed many remakes.
Macy's is also well-known for its annual Spring Flower Show, which has been taking place for decades. During this time, the store is resplendent with spring color.