Truly one of New York City's most revered addresses, The Dakota apartment building has long been a place where New York's well-to-do live.
While it's an architectural gem in its own right, the apartment building is best known as the place where former Beatle John Lennon was gunned down in December 1980. Lennon fans still visit the site regularly and place objects there in homage to the singer/songwriter.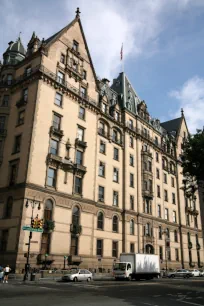 Some History
The Dakota was built between the years 1880 and 1884. Situated at 72nd Street and Central Park West, the apartment complex is believed to have been given its name because the upper west side of Manhattan seemed, at that time, as remote as the Dakota Territory.
Edward Clarke, developer of the Dakota building, was one of the first to introduce a new concept of living for the rich in New York City: instead of living in a home with servants, the potential tenants would share the building and rent full-serviced flats instead.
Even though New York's high society was skeptical at first towards the new concept of living and the remote location, the Dakota soon started attracting tenants. Only twenty years later, the Upper West Side had become a fashionable area, with the Dakota building as one of its most prominent addresses.
About the Building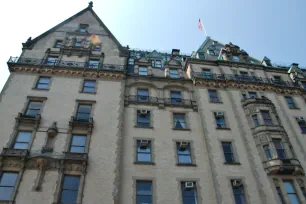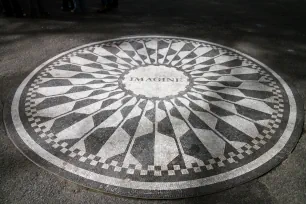 The architecture of The Dakota can best be described as North German Renaissance, though many architecture buffs will tell you that the inside is decidedly French in character, typical of other NYC buildings constructed around the same time period.
The exterior is truly magnificent, boasting high gables, balustrades, and terracotta spandrels (the space between two arches) and panels. Well-maintained, The Dakota has lost little of its original glory.
Inside, apartments range from four to twenty rooms. None of the sixty-five residences are the same; however, parlors and master bedrooms are always located in the front while other rooms overlook the lovely courtyard in the center of the building. Some rooms are as long as 50 feet (15 meters), ceilings in a number of apartments are 14 feet (4m) high, and the floors are covered with the most expensive woods available, including mahogany, oak, and cherry.
In the early days of The Dakota, there was a large dining hall, a playroom and gym on the 10th floor, and tennis and croquet courts behind the building. A separate garage housed the tenant's carriages and horses. Separate service entrances have always been available for domestic staff.
Celebrities and The Dakota
The Dakota has also attracted the rich and famous, ever since its opening in the late 19th century. Famous residents have included Judy Garland, Leonard Bernstein, Lauren Bacall, Carson McCullers, Boris Karloff, Connie Chung, and Paul Simon. John Lennon lived here with his wife Yoko Ono until his death; Ono still lives at the Dakota Apartments.
The facade of the building has also been used in a number of cinematic productions.