Situated on Lower Manhattan's waterfront with a breathtaking view, South Street Seaport is a must-see for anyone visiting New York City. It's a combination maritime museum and mall, offering insight into New York's rich maritime history and providing a great place for shopping and dining.
History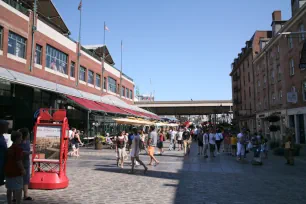 South Street Seaport is located on the site of what was once the busiest port in America. Fulton Street, at the neighborhood's center, was one of the most crowded streets in the city, especially after a fish market opened here in 1821. A popular ferry service to Brooklyn also departed here.
After the construction of the Brooklyn Bridge, nearby trade activity quickly declined, and the neighborhood was soon abandoned and left to decay. In the 1960s, Peter Stanford and a group of sympathizers formed the 'Friends of South Street Seaport', a collective striving to preserve the historic area by turning it into an open air museum. It would take until the 1980s before this idea became a reality. In 1983 South Street Seaport officially opened and two years later a new shopping mall opened here as well.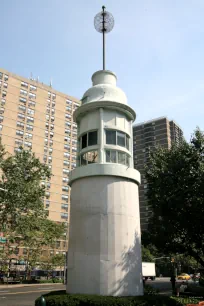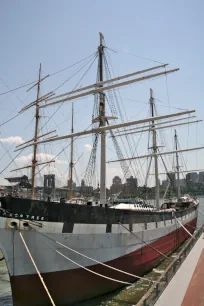 Today the area is again attracting crowds, be it mostly tourists instead of sailors and merchants. Many come here to see one of the frequently changing expositions, to dine and have a drink, or to take a trip on a historic vessel.
South Street Seaport Museum
The whole area around south street is part of the South Street Seaport Museum, where visitors can stroll past eighteenth- and nineteenth-century buildings and homes, situated along cobblestone streets. Visitors can enjoy galleries and exhibits relating to Manhattan's importance as a port city. Also part of the museum is a nineteenth-century print shop and a collection of historic vessels on the museum's Street of Ships.
The area today
The historic neighborhood consists of about seven blocks and is intersected by an elevated highway, the F.D.R. Drive.
On the east side of this road are three piers, of which Pier 17 is the most famous. Here used to be a modern shopping mall whose top floor gave visitors a nice view of the Brooklyn Bridge. The mall was severely damaged by hurricane Sandy that ravaged much of Manhattan in 2012. The structure was demolished in April 2014 and has since 2018 been replaced with a brand new, glass complex with a rooftop that is used for open-air concerts.
The historic vessels of the South Street Seaport Museum are moored at Pier 15 and Pier 16. The eye-catcher is the three-masted ship Wavertree, a historic iron-hulled sailing ship built in 1885. Nearby is the small Pilot House, originally the pilothouse of a tugboat. Here you can buy tickets for boat trips.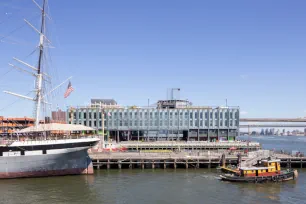 At the other side of the F.D.R. Drive are a number of traffic-free cobblestone streets lined with historic houses, such as the row of twelve early nineteenth-century warehouses along Fulton Street, known as Schermerhorn Row. In this neighborhood you'll find a number of restaurants, shops, galleries and exhibitions.
At the west end of the South Street Seaport, at the intersection of Water and Fulton Streets, stands the Titanic Memorial, a small lighthouse installed here in 1913 as a monument honoring the casualties of the sunken luxury passenger liner Titanic.