Castle Clinton is a historic fortress built in the early nineteenth century to defend the New York harbor against the British. Originally built offshore, it is now located in Battery Park.
Construction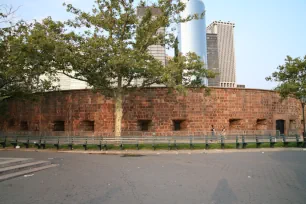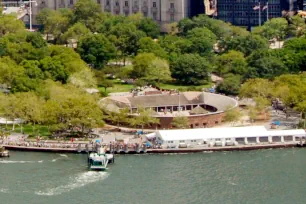 Clinton Castle is the only remaining fortress in Manhattan. It was built in 1808-1811 on an artificial island and was known as the West Battery. The circular brownstone fort was designed by John McComb Jr. and Lt. Col Jonathan Williams.
Intended to defend the city during the War of 1812 against Great-Britain, it was a complement to the East Battery / Castle Williams fortification on Governor's Island. Neither fort saw any military action.
The Fort
Circular in shape, the West Battery Fort stood in about 35 feet (11 m.) of water and was connected to the mainland by a 300-feet-long (90 m.) timber causeway with a drawbridge. It included 28 guns situated on one tier. Inside the rounded ends of the rear wall, on the land side, were the magazines. Quarters for the officers were at each side of the passageway to the causeway. No barracks were available for the enlisted men who served there.
In 1915 the fort was named after DeWitt Clinton, who was Mayor of New York City from 1803 to 1815.
Castle Gardens
Though the castle was originally offshore, as landfill expanded the boundaries of the area known as Battery Park, Castle Clinton eventually wound up on the mainland. The Army gave it up in 1821 and in 1823 it became an entertainment complex known as Castle Gardens, a title by which many New Yorkers still refer to the castle. It once housed a beer garden, an exhibition hall, a theater, and even an opera house.
Immigration Depot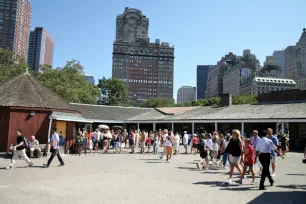 Before Ellis Island was built, this castle served as a port of immigration for those arriving in America. It functioned in this capacity from 1855 until 1890 – after about 8 million immigrants had entered the US via Castle Clinton – and was later replaced by the much more famous island in the middle of Upper New York Bay. After the immigration station closed, Castle Clinton became the New York Aquarium.
Brooklyn-Battery Bridge
In 1939, city planner Robert Moses – who made a career destroying historic houses and neighborhoods to build new highways – wanted to demolish Castle Clinton to make way for a new bridge connecting Battery with Brooklyn. President Franklin Roosevelt, however, personally intervened, and the project was abandoned. After the New York Aquarium moved to Coney Island in 1941, many politicians wanted to demolish the structure, but concerned citizens rallied to save it and in 1946 it received its National Monument designation.
Castle Clinton Today
Today, Castle Clinton serves as the ticket booth for Statue Cruises, the company that runs the boat tours of the Statue of Liberty and Ellis Island. Occasionally, concerts and other events are still held here and visitors can take a ranger-guided tour of the facility.