The Museum of the City of New York is dedicated to the development of New York and covers its past as well as the present and future of this fascinating metropolis. The museum is housed in a beautiful mansion at New York's Museum Mile on Fifth Avenue.
The Mansion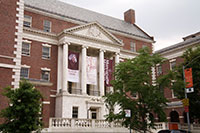 Museum of the City of New York
The Museum of the City of New York, established in 1923, was first located in Gracie Mansion, now part of Carl Schurz Park. In 1932 the museum moved to its current home at Fifth Avenue between 102nd and 103rd Streets.
The stately building, designed by Joseph H. Freedlander in a Georgian Revival style, nicely complements the many grand mansions that were built along upper Fifth Avenue by industrial magnates during the nineteenth and early twentieth centuries.
Collection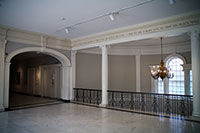 Inside the mansion
The museum owns over 1.5 million objects related to New York. Photographs, paintings and sculptures are often displayed to highlight aspects of the city's history. A toy collection shows the social history of New York City's childhood, the garment collection shows the history of fashion in New York and the Decorative Art Collection has an impressive number of furniture and household objects, including 1400 pieces of silverware. The museum's Theater and Broadway collection highlights an important part of New York's nightlife scene.
Exhibitions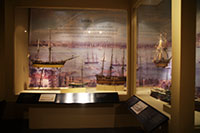 'Trade' exhibit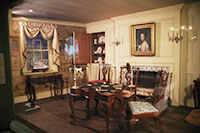 Period room
The exhibitions in the museum change regularly and cover a broad range of topics such as trade, design, preservation, architecture, and anything else related to the city of New York. Some interesting past exhibits covered 'master builder' Robert Moses, the natural history of New York and New Amsterdam. A must-see ongoing exhibit is a multimedia portrait of the history of New York, which runs every thirty minutes. Also, not to miss are the historic rooms, where you can see New York interiors from 1690 to 1906.
Expansion
After plans to move the museum to a new home in the Tweed Courthouse in downtown Manhattan fell through, the museum expanded its current accommodation with the creation of a new glass pavilion designed by Polshek Partnership of New York.