New York is full of exciting and quirky neighborhoods, and SoHo certainly fits both of those descriptions. A true example of urban gentrification, SoHo delights visitors with excellent restaurants, fun shops, interesting architecture, and enticing art galleries.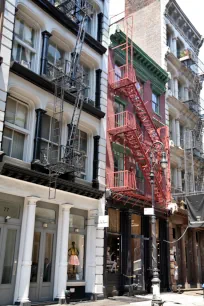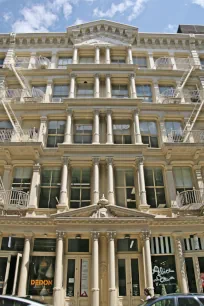 The Birth of SoHo
The name SoHo is an acronym for "SOuth of HOuston Street". The neighborhood stretches down to Canal Street and is sandwiched between Sixth Avenue to the West and Lafayette Street (just east of Broadway) to the east.
Early SoHo was an industrial zone, full of cast-iron warehouses and cobblestone streets. Large upscale companies used the warehouses to store their extra merchandise and made use of the ornate window fronts to display some of their finest wares.
By shortly after the turn of the twentieth century, however, SoHo had suffered a decline and was full of "sweat shops", illegally employing minors and immigrants with little pay and bad working conditions. The slum soon earned the nickname "Hell's hundred acres". Eventually, labor laws were passed, and the illegal sweat shops moved, leaving the area dilapidated and undesirable.
In the 1960s, however, artists began moving into the neighborhood, taking advantage of the large buildings with low rents, perfect for a starving artist who needed lots of room to practice his/her profession. By the 1970s, it was already one of the trendiest neighborhoods in Manhattan.
Cast-iron architecture
SoHo boasts the largest collection of cast-iron architecture in the world. The heart of this collection can be found in the Cast-iron Historic District which is bound be Houston Street, Canal Street, Crosby Street and West Broadway.
The heart of the district is Greene Street, where about fifty of those nineteenth-century buildings can be found. At the time, these cast-iron facades were mass-produced and relatively inexpensive, but they have become rare examples of early industrial architecture.
Today's SoHo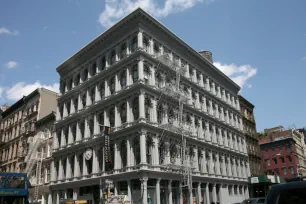 These days, artist's lofts in SoHo don't come cheap anymore. Many of the artists have moved to nearby TriBeCa, although SoHo is still home to many galleries.
The neighborhood is also full of wonderful shops – both privately-owned and those with recognizable names. Restaurants here are booked far in advance, and you're sure to run into a celebrity or two enjoying a night out.