Madrid has no shortage of large urban parks. The most famous is the Parque del Retiro, which lies just east of the historic center. As its name implies, Parque del Oeste (Western Park), lies on the other side, just north of the Royal Palace.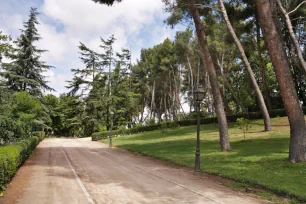 The park stretches north along the Paseo del Pintor Rosales towards the Moncloa district.
History
Parque del Oeste was originally conceived in the 1890s by Celedonio Rodrigañez y Vallejo, who at the time was responsible for the city's gardens and parks. Landscape architect Cecilio Rodriguez converted the area – former rubbish dumps – into a large English styled garden, which officially opened in 1905. It was recreated during the 1940s after the park was damaged and neglected during the Spanish Civil War.
Sights
Rosaleda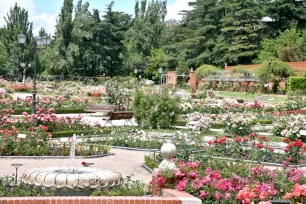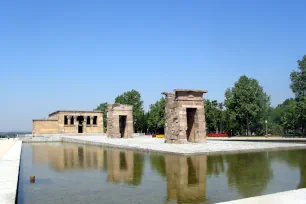 In 1958 Ramón Ortiz created one of the park's most beautiful gardens, the Rosaleda (Rose Garden). The garden is known for its annual flower show and competition.
Templo de Debod
The area to the south of the Rosaleda is known as the Parque de la Montaña (Mountain Park), named for its elevated location on top of a hill. From the hill you have a wide view over the Casa de Campo, Madrid's largest urban park, covering an area of about 1800 hectares (4500 acres). Most visitors come here to admire the most famous attraction of the Parque del Oeste: the Templo de Debod, an authentic Egyptian temple, reconstructed here between 1970 and 1972 at the site of the former Montaña barracks.
Cementerio de La Florida
On May 3, 1808, during the French occupation, French troops executed 43 rebels at the Parque de la Montaña, an event famously depicted by the Spanish painter Francisco de Goya. The casualties lie buried at the Cementerio de La Florida, a small cemetery just northwest of the Rosaleda. At the eastern edge of the park stands the station of the Teleférico, a funicular that connects Parque del Oeste with the Casa de Campo.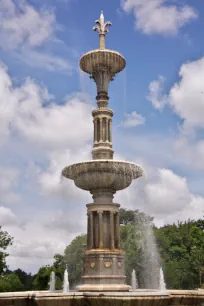 Fuente de Juan de Villanueva
Further northwest stands one of the city's tallest fountains, the Fuente de Juan de Villanueva. The fountain was created in 1952 by sculptor Santiago Costa and a trio of architects and honors architect Juan de Villanueva, who is best known for his design of the Edificio Villanueva, home to the Prado Museum. The fountain was inaugurated at the Glorieta de San Vicente, a traffic circle near the Campo del Moro. In 1995, it moved to its current location on a small traffic island in the middle of Parque del Oeste.
Monumento a Goya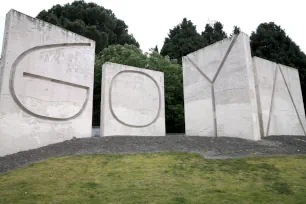 Series of stairs descend towards the most western section of the Parque del Oeste, where the park is more formally laid out. Unfortunately, a railway track cuts the park in two here. The track can be crossed thanks to a couple of pedestrian bridges. The most notable sight in this area is a modern monument honoring Goya, one of Spain's most famous painters.