In the Parque de la Montaña, not far from the Royal Palace, one finds the most surprising monument of Madrid, the Templo de Debod, an authentic Egyptian temple which was reconstructed here between 1970 and 1972.
The Temple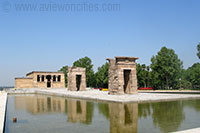 Templo de Debod
This authentic Egyptian temple was built in the early 2nd century BC on the order of king Adikhalamani, a Nubian King of Meroë. The temple was erected at the village of Debod, near the sacred temple island of Philae.
Construction of the Debod Temple, which was dedicated to the gods Amon and Isis, continued throughout the following century and was eventually completed in the early 1st century AD, during the Roman occupation.
The Temple
Due to the construction of the Aswan High Dam in Egypt between 1960 and 1970, many historical monuments were in danger of being flooded. Spanish engineers helped the Egyptian government to move these monuments to safe areas. In 1968 Egypt donated one of these monuments, the Templo de Debod, to Spain in recognition of their support.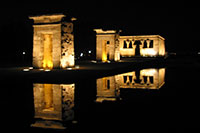 The temple at night
Reconstruction
The temple was moved to Madrid and reconstructed in the Parque de la Montaña (Mountain Park) – an extension of the larger Parque del Oeste – at the site of a former army barracks, near the Plaza de España. The temple opened in 1972.
According to Egyptian theology the inner chamber of the temple was the domain of the ancient god Amon. Only high priests were allowed to enter the chamber. Today, it is open to all visitors, who can see an exhibition inside the temple which depicts the reconstruction of the temple in Madrid. There is also some other historic information related to king Adikhalamani and the deciphering of the hieroglyphs inside the temple.