The Plaza de Santa Ana is a lively square in the center of historic Madrid, not far from Puerta del Sol. It is known as the heart of Literary Madrid, so it is no surprise that there are plenty of popular cafés and bars at and around the square.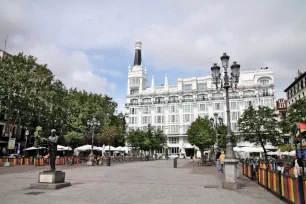 The Plaza de Santa Ana was laid out in the early nineteenth century during the short reign of Joseph Bonaparte, Napoleon's brother. It is named after the sixteenth-century Santa Ana convent, which was demolished to make room for the square.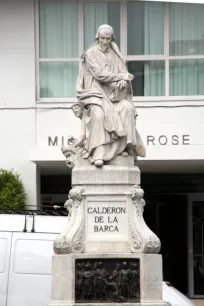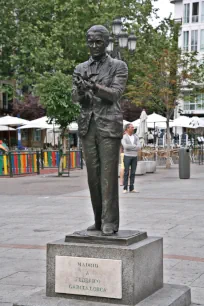 Statues
Two monuments honor some of Spain's most famous writers. At the west side of the square, in front of the cream-colored hotel building, stands a marble statue dedicated to Pedro Calderón de la Barca, a seventeenth-century poet and playwright.
The monument, created in 1878 by Joan Figueras Vila, is decorated with four reliefs that depict scenes from four of Calderón's plays. A more recent literary monument can be found at the other end of the square, near the Teatro Español. It honors another famous poet and playwright, Federico García Lorca. The statue was erected in 1998, at the centennial birthday of García Lorca.
Teatro Español
The aesthetically pleasing Teatro Español (Spanish Theater) borders the Plaza de Santa Ana to the east. The theater was originally built in 1745 at the site of the Corral de Príncipe (an open air theater), after which it was initially named.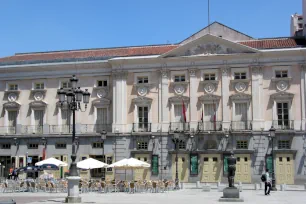 A fire destroyed the theater at the start of the nineteenth century, but it was quickly rebuilt in 1804 to a design by Juan de Villanueva. The current Neoclassicist façade, sporting Corinthian pilasters and medallions with busts of famous playwrights, was added later, after the convent of Santa Ana made way for the new square. Another fire in 1975 seriously damaged the theater; it was restored in 1980.
Cafés and bars
Some of Madrid's most popular cafés, restaurants and tapas bars can be found along the Plaza de Santa Ana. The most famous is probably the Cervecería Alemana, frequented by artists and writers since it opened in 1904. Ernest Hemingway was one of the regulars here. Other popular establishments include the Viva Madrid and Los Gabrieles; both are decorated with beautiful azulejos, colorful tiles.