The Plaza de la Villa is a picturesque small square in the heart of Madrid, not far from the much larger Plaza Mayor. In contrary to the latter, the buildings at the Plaza de la Villa all have contrasting styles.
Casa de la Villa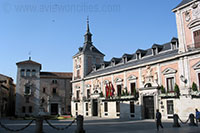 Plaza de la Villa
The largest building at the square is the former Town Hall or Casa de la Villa (ayuntamiento). Construction started in 1644 by Juan Gómez de Mora, the architect of the Plaza Mayor.
Over time a number of architects were in charge of the construction of the Town Hall until it was finished in 1696 by Teodoro Adremans. The building served both as town hall and prison, hence the two symmetrical doors. The left one gave entrance to the prison, the other one to the town hall.
In 2007 the more impressive 'Palacio de Comunicaciones' took over the role of Madrid's town hall.
Casa de Cisneros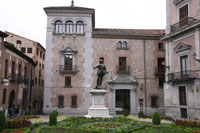 Casa de Cisneros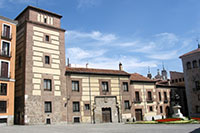 Torre de los Lujanes
An arch connects the Casa de la Villa with the Casa de Cisneros, a castle built in 1537 by Benito Jimenez de Cisneros, a nephew of Cardinal Cisneros. The castle was built in the plasteresque style, a Spanish version of early Renaissance style.
Torre de los Lujanes
The oldest building at the Plaza de la Villa, the Torre de los Lujanes (Lujanes Tower), is also one of the oldest buildings in Madrid. The tower was constructed in the fifteenth century in Mudejar style. The structure features a Gothic porch decorated with three coats of arms.
The Statue
At the center of the square is a statue of Alvaro de Bazan, the Spanish Admiral who planned the Armada, the fleet that attempted to invade England. The statue designed by Mariano Benlliure was added to the square in 1980.