The Plaza Mayor, a grand arcaded square in the center of Madrid, is very popular with tourists and locals alike. The symmetrical rectangular square features a uniform architecture, very similar to the contemporary Place des Vosges in Paris.
History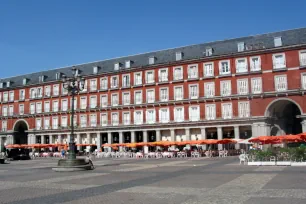 During the Middle Ages, the site was just a marketplace outside the city walls. In the 1560s, King Philip II asked Juan de Herrera, architect of the Escorial, to turn the marketplace into a real square.
It would take until 1617, during the reign of King Philips III, before the construction of the new Plaza Mayor started. Under the direction of Herrera's successor, Juan Gómez de la Mora, the plaza was completed in just two years.
The result was a large square, measuring 120 meters long and 90 meters wide (394 ft. x 295 ft.). It was surrounded by wooden buildings, at one point up to six stories high. Fires destroyed all the buildings around the Plaza Mayor three times in history: in 1631, 1672 and 1790. Each time they were rebuilt, the last reconstruction after a design by Juan de Villanueva is what we see today.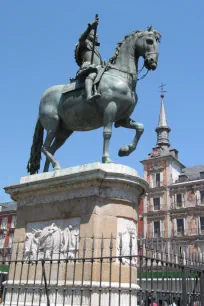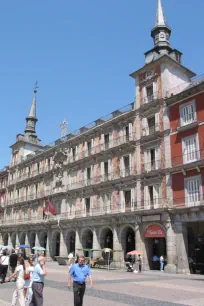 Festivities
Since its creation, the Plaza Mayor has been the center of festivities, bull fights, royal coronations and executions. These would be attended by as many as fifty thousand spectators. It is still used today for public celebrations.
Statue
At the center of the square is a bronze statue of King Philip III, constructed in 1616 by the Italian sculptors Giovanni de Bologna and his apprentice Pietro Tacca. In 1848, it was moved from the Casa de Campo to the Plaza Mayor. Around the same time, the plaza was redesigned with gardens, but those were removed in 1936.
Casa de la Panaderia
The most prominent building on the Plaza Mayor is the Casa de la Panaderia, the seat of the powerful baker's guilt. It was completed as early as 1590, before the square was even laid out. Its current design with symmetric towers dates from after the last fire in 1790. The colorful allegoric murals were only added recently, in 1992.