AZCA, Madrid's modern business center, is a district located along the wide avenue Paseo de la Castellana, north of the city center.
A New Business District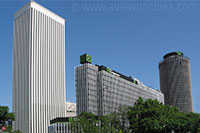 Azca
The area is bordered by a large ministerial complex, the Nuevos Ministerios, on the south and by the Palacio de Congregos y Exposiciones on the north. Development of AZCA started in 1969 in an effort to create a new business district outside the overcrowded city center.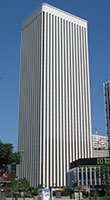 Torre Picasso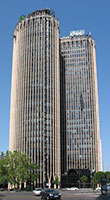 Torre Europa
Madrid's Manhattan
Dubbed 'Madrid's Manhattan', AZCA features a cluster of modern skyscrapers. The tallest one is the Torre Picasso, a 157m / 516ft tower built in 1989. At the time of construction, it was the tallest tower in Spain. The sleek white building was designed by Minoru Yamasaki, who also designed the now destroyed WTC Towers in New York.
South of the Picasso Tower is the Banco Bilbao Vizcaya Argentaria or BBVA building. The rust-colored tower with rounded corners was built in 1980 by the Spanish architect Francisco Javier Saenz de Oiza.
North of the Picasso Tower, near the Plaza de Lima, is the thirty story Torre Europa. The 121 meter round glass structure with external concrete columns was built between 1975 and 1985. On May 1, 2002 a car bomb with twenty kilograms of explosives was set off in front of the Torre Europa, injuring sixteen people and damaging the building's exterior.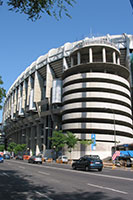 Estadio
Santiago Bernabéu
Bernabeu Stadium
On the other side of the Castellana avenue is probably the most famous of all buildings in AZCA: the iconic Estadio Santiago Bernabéu or Bernabeu Stadium. The home of Real Madrid – Europe's most successful football team – was originally constructed in 1947. It was expanded several times and currently has a seating capacity of about 81,000.