At the plaza de la Moncloa, near the Oeste Park outside the city center stands a large triumphal arch, the Arco
de la Victoria or Victory arch.
A Franco Legacy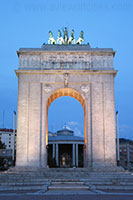 Arco de la Victoria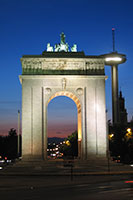 Arco de la Victoria
with the Mirador del
Faro to its right
The arch looks older than it really is. Dictator Franco had it built in 1956 as a tribute to his Nationalist army who defeated the republicans during the Spanish Civil War (1936-1939). The Arco de la Victoria is also known as the Puerta de Moncloa or Moncloa Gate, a name preferred by those who don't want to be reminded of the late dictator.
The 39m/128ft high imposing arch is topped by a statue of a four-horse chariot. Franco used to drive along this route on a regular basis traveling to Madrid's city center from his main residence, the El Pardo Palace.
Lookout
The Arco de la Victoria is not open to visitors, although there is a room inside the arch with a model of the nearby university as well as the plans for the arch.
Not far from the arch is the Mirador del Faro, also known as the Faro de Moncloa or Faro de Madrid. This futuristic looking tower was built in 1992 as a communication center. Unfortunately the 92m / 300ft tower's observatory closed in 2005.