Madrid's magnificent bullring is considered one of the most important in the world and guests can travel there to see fights by the greatest matadors of our time.
History of the Building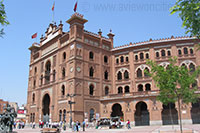 Plaza de Toros de las Ventas
From about 1915 to 1920, the city of Madrid saw a huge rise in popularity of the sport of bullfighting. They soon found that it would be necessary to build a grand, new bullring that would accommodate the spectators who were now crowding the small ring at Carretera de Aragon.
Architect Jose Espeliu was chosen to design the new bullring. A wealthy family donated the land and the first stone was placed in 1922. It was completed seven years later and the inaugural bullfight was eventually held in June 1931.
The Architecture and Layout of Las Ventas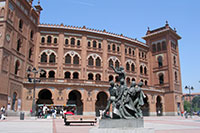 Monument to Antonio Bienvenida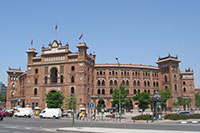 Las Ventas
Plaza de Toros de Las Ventas was designed and constructed in the Mozarabic style. Such architecture is found only in the northern portions of Spain and is the product of architects and craftsmen who were refugees from the formerly Moorish south. Features of Mozarabic architecture include horseshoe-shaped arches and ribbed domes. This building also features pottery "incrustations" of the shields of all the provinces of Spain.
The arena is 60 meters (about 200 feet) in diameter and the seats are divided into "tendidos", which are groups of 27 rows arranged around the arena. Where you sit will depend upon how much you pay for your ticket. Seats situated out of the hot Madrid sun are cheaper than those with no exposure to the sunlight. Those that are closer to the arena – of course – also cost more. In the 10th tendido, you'll find the Official Box, where the show's director sits, as well as any visiting dignitaries. The box is extremely ornate and boasting the same Mozarabic decorative architecture that you find on the exterior of the Plaza de Toros.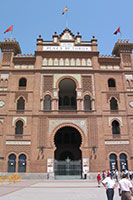 The bullring has five gates from which the bulls enter the arena. The Puerto Grande or "Big Door" – also dubbed the Door of Madrid – is the most revered as it is the exit door used by successful matadors who have won their fight. Eight corrals also surround the arena.
Plaza de Toros de Las Ventas is also home to a chapel and a small hospital with two operating rooms – in case of emergency. The chapel was designed by architect Manuel Muñoz Monasterio and built in a classic Mexican style.