The Centro de Arte Reina Sofia (Queen Sofia Art Center) treats visitors to a look at the best in twentieth-century art.
Its Beginnings
The building that houses the Centro de Arte Reina Sofia, also known as Museo Nacional Centro de Arte Reina Sofía, has a long history.
Centro Reina Sofia
In 1566, king Felipe II ordered that all the hospitals in the city be brought under one roof, so they came together at this location and became known as Hospital General. By the last few decades of the 18th century, the need for a larger hospital was evident. Between 1776 and 1781, this new building was constructed using plans by architect Francisco Sabatini, as ordered by King Carlos III.
Since that time, numerous additions and renovations have been made, and the former hospital narrowly escaped demolition several times, at the hands of those who considered the cavernous building unattractive. However, a Royal Decree in 1977 declared it to be a National Historic Monument.
Renovation and transformation into a museum
Architect Antonio Fernández Alba drew up designs for renovation around 1980 and, nearly a decade later, José Luis Iñíguez de Onzoño and Antonio Vázquez de Castro were responsible for the finishing touches. The glass and steel elevators are of particular note and give the old building a contemporary feel.
During those years, the building hosted temporary exhibits. Upon completion in 1988, however, a Royal Decree declared the center a National Museum, replacing the former Museo Español de Arte Contemporáneo (MEAC).
Today's Museum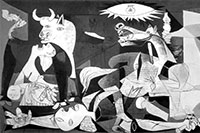 Picasso's Guernica
The Museo Nacional Centro de Arte Reina Sofia is often referred to as the MoMA of Madrid, in reference to NYC's renowned Museum of Modern Art. Indeed, it houses one of Europe's finest collections of 20th century art and is an especially excellent place to explore the works of Spain's contemporary artists, including Joan Miró, Salvador Dalí, and Pablo Picasso. One of Picasso's finest works, Guernica, can be found here, despite the fact that the artist would have preferred it be on display at the Prado.
The museum's expansive library includes a collection of more than 100,000 monographs and brochures, 1,000 magazines, 1,000 videos, audio tapes and a historically important collection of ephemera, manuscripts, photographs and slides.