The Edificio Metrópolis is one of the most famous buildings in Madrid. The eye-catching structure, decorated with numerous sculptures, is especially beautiful at night, when it is spectacularly illuminated.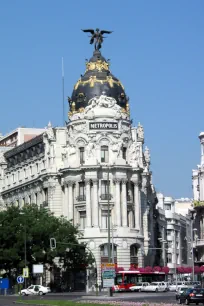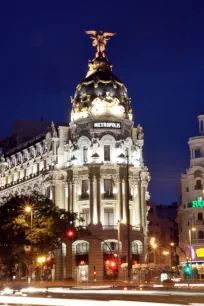 Construction
The Edificio Metrópolis was constructed between 1907 and 1911 after a design by the French architects Jules and Raymond Février for the insurance company Unión y el Fenix Español. It was built at a prime corner site near the then planned Gran Via (Great Road).
Design
The architects used the typically French Beaux-Arts style in their design, with a lavish façade decorated with statues, pillars and ornaments. The statues resting on Corinthian twin columns are allegorical representations of Trade, Agriculture, Industry and Mining.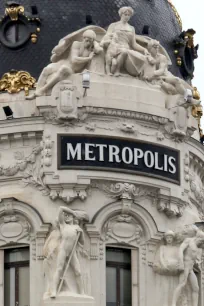 Above these statues, the façade is decorated with festoons and small foliated windows. The building is crowned with a magnificent black dome, accentuated with gilded ornaments.
The winged statue
The dome is topped by a statue of the winged goddess Victoria, designed by the Spanish sculptor Federico Coullaut-Valera Mendigutia. It replaced the original bronze statue of the mythological figures of Phoenix and Ganymedes, the symbol of Unión y el Fenix Español.
When Metrópolis Seguros, a rival insurance company, purchased the building in 1972, the original owners decided to take the statue with them to their new headquarters. At the time the move was controversial, since the statue was a familiar icon in the skyline of Madrid. But after Metrópolis installed the current statue in 1975, it soon became just as familiar.