Charles III of Spain, who reigned from 1759-88, believed that Madrid should boast the same amenities as Europe's other fine capitals. So, he went about building wonderful museums and other attractions, attempting to make this Castilian town equal to cities like Rome, Paris, and London. The Prado Museum was one of those attractions.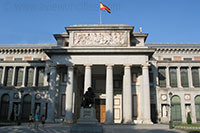 Prado Museum
Today, this highly-acclaimed art museum is one of the most-visited attractions in Madrid, summoning the attention of lovers of great art from around the world with its expansive collection of a variety of works.
The Villanueva Building
The specifications for The Prado, originally planned as a Natural History Museum, were approved in 1785. Charles III knew exactly what he wanted for his museum. The building would be expansive with a grand rotunda, a central gallery full of natural light, and a cube-shaped space on either end. Designed in the Neoclassical style, the building would be the envy of many, and construction was soon under way.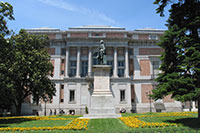 The Spanish War of Independence caused construction to stop, and for several years, the partially completed building was used by the Calvary. A fire destroyed part of the building during the war and many construction materials were stolen.
After the war, construction on The Prado started once again, under the direction of King Ferdinand VII, and ten years later, the attraction opened its doors as The Royal Museum of Painting and Sculpture.
By the early 1900s, the structure had already outgrown its huge collection of artwork and additions were necessary. The first addition was made in 1918 and more rooms were added again in the 1950s and 60s. Two additional buildings, Casón del Buen Retiro and the Palacio de Villahermosa, became part of the complex at a later date, providing yet more room to display the Prado Museum's amazing collection.
About the Collection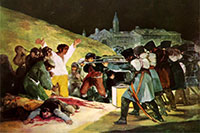 Goya's 3rd of May
The Prado Museum's permanent collection is one of the largest in the world. It consists of about 9,000 paintings, 5,000 drawings, 2,000 prints, 1,000 coins and medals, and approximately 2,000 decorative objects.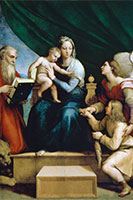 Madonna with the Fish,
Raffaello Sanzio
The Prado boasts the world's finest collection of Spanish art, with extensive examples of works by El Greco, Velazquez, Goya, and Murillo. Visitors can also explore a fine collection of works by Flemish painter Peter Paul Rubens and Dutch painter Hieronymus Bosch, as well as a number of Italian masterpieces.
Because the collection is so extensive, only about one-seventh of the museum's entire permanent holdings are displayed at a single time. Excellent traveling exhibits visit The Prado Museum as well.