The Plaza de España is one of Madrid's largest and most popular squares. On a sunny day it is filled with street vendors, tourists and sunbathing locals.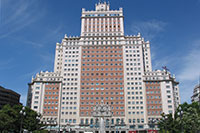 Edificio de España
The square is located at the end of the beautiful Gran Via, one of Madrid's busiest streets. The green square is surrounded by streets, but it is still a very relaxing place during daytime. It features a large fountain and famous statue honoring the Spanish writer Cervantes.
History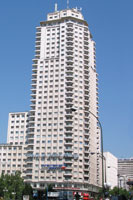 Torre de Madrid
Located close to the Palacio Real (Royal Palace), the site was occupied by a barracks. After it was demolished, a new public square was created. It became a popular meeting place in the 1950s, after two of Madrid's largest buildings were constructed: the Edificio de España and the Torre de Madrid. Both buildings were constructed by the project developer Metropolitana and designed by the Otamendi brothers.
Skyscrapers
The Edificio de España was built between 1947 and 1953 and is the most elegant of the two skyscrapers. It consists of a central 25 story tower flanked by two wings.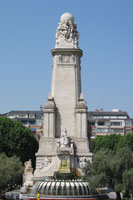 Monument to
Miguel de Cervantes
The Torre de Madrid was built in 1957. At the time of construction, it was the tallest concrete building in the world with a height of 142m or almost 466ft. Nicknamed La Jirafe or 'giraffe', it was the tallest building in Madrid until the Torre Picasso was built in 1989.
Monument to Miguel de Cervantes
The most popular sight at the Plaza de España is the monument to Miguel de Cervantes, writer of the world famous story of Don Quixote de la Mancha and his trusty squire, Sancho Panza. Visitors flock to the monument to get their picture taken in front of the bronze statues of Don Quixote on his horse and Sancho Panza on his mule. Behind them a is statue of Cervantes himself, looking over his creations.