In the middle of the busy Plaza de la Independencia stands one of Madrid's best known landmarks: the Puerta de Alcalá or Alcala Gate.
Conception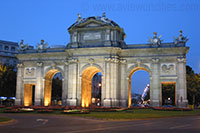 Puerta de Alcalá
In 1764 King Carlos III commissioned the Italian architect Sabatini to construct a large gate to replace a small sixteenth-century Baroque gate, built by King Philips III. Carlos III felt the gate, which marked the eastern boundary of the city, was too small for the important gateway to Aragon.
Design & Construction
Sabatini's design called for a neoclassical granite gate with three large archways and two smaller, rectangular passageways. Each of the archways is decorated with a lion's head, sculpted by Roberto Michel. The top of the gate is decorated with statues by Francisco Guttiérrez.
The gate at night
Construction of the gate took nine years, it was finally completed in 1778. The gate soon became one of Madrid's symbols. It is now classified as a national monument.
Location
In the nineteenth century, the Puerta de Alcalá was moved to its current location at the Plaza de la Independencia, adjacent to the Parque del Buen Retiro, Madrid's centrally located park.