The Palacio de Santa Cruz is one of the best examples of Habsburg architecture in Madrid. The red brick, twin-towered building is located at the Plaza de la Provincia, close to the Plaza Mayor, the heart of Madrid during the Habsburg reign.
Habsburg Madrid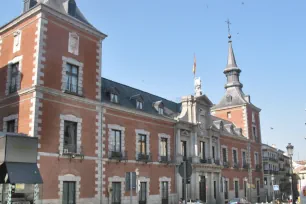 The Habsburgs' reign started in 1516 when Carlos I (known as Charles V outside Spain) came to the throne. His successor, Philips II, made Madrid the capital of Spain in 1561. The reign of the Habsburgs ended in 1700, when the French Bourbons took control over Spain. The historic center is still known as Habsburg Madrid, while the area to the east is known as Bourbon Madrid.
Royal Prison
The Palacio de Santa Cruz was built between 1629 and 1643 by Juan Bautista Crescendi. The palace originally served as the royal prison. Many waited here for the verdict of the infamous Spanish Inquisition. For most of them, the next step was execution at the Plaza Mayor.
Renovations
The palace was renovated twice: first in 1846 when a fire destroyed much of the building and a second time in 1940 after the palace was damaged during the civil war of the 1930s. The Palacio de Santa Cruz is now home to the Ministry of Foreign Affairs, who settled here in 1901.