In homage to Christopher Columbus (in Spanish – Cristobal Colón) and his voyage to discover the Americas, Madrid has erected two monuments in the Alonso Martinez district in an area that's become known as Plaza de Colón.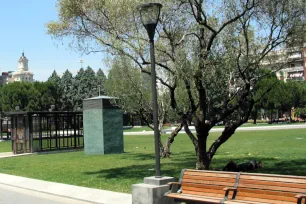 Plaza de Colón was established in 1893 in celebration of the 400th anniversary of Columbus' voyage to America, celebrated the year before in 1892. The plaza features two very different artistic works that honor the great explorer, who was commissioned by Spain's royalty – King Ferdinand and Queen Isabella – to make the trip.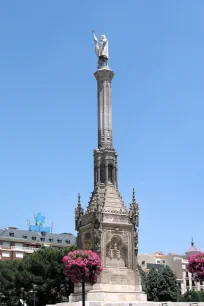 Columbus Statue
Christopher Columbus himself stands atop the first monument, situated on a traffic island. He is perched at the pinnacle of a tall column, facing eastward towards the open sea.
Across the street, on the south side of the plaza, is a twelve-meter-tall sculpture entitled «Julia», that was created by the Spanish artist Jaume Plensa. It will remain at this site until December 2023.
Underneath this statue, you'll find steps that lead to the Centro Cultural de la Villa, a cultural arts center that's used for a variety of presentations including plays, ballet, folk concerts, and fun children's theater productions such as puppet shows. It's one of the premiere arts venues in the city.
Columbus Monument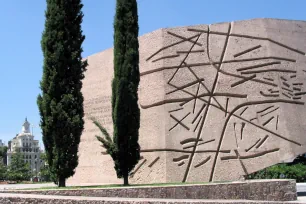 The second monument to Christopher Columbus is a large, chunky cement piece that looks a bit like an anchor. Inscribed on this sculpture are quotes from famous philosophers and noted Spanish individuals. This monument was designed by Spanish painter Joaquín Vaquero Turcios and placed in the plaza much later than the original statue.
The Gardens
The pretty gardens on the Plaza de Colón are known as the Gardens of Discovery and are a lovely place to stop for a breath of fresh air or for some picture taking, especially during the spring months when the area is in full bloom.