The main thoroughfare through Kowloon, Nathan Road has earned the nickname "The Golden Mile".
History

Though it may be difficult to tell as you walk through modern stores and tons of neon lights, Nathan Road is the oldest road in Kowloon, with the first section completed in 1861. It was originally named Robinson Road, after the 5th governor of Hong Kong, but because there was a similarly named street on Hong Kong Island, the street was renamed in 1909, paying homage to the 13th governor, Sir Matthew Nathan, who served from 1904 to 1907.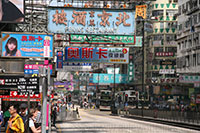 Nathan Road
The road starts just below Boundary Street in Mongkok and continues all the way to Tsim Sha Tsui's waterfront. When this wide boulevard was proposed, residents thought it was a foolish idea that would create traffic concerns and other problems. They dubbed it "Nathan's Folly". Today, it's one of the busiest and most popular commercial roads in Hong Kong and is a favorite place for visitors and locals to hang out and explore.
What's There?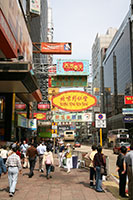 Hong Kong's Nathan Road got its moniker because of the plethora of neon signs that line the street. While the area in central Kowloon can be somewhat sleazy there are, nonetheless, certainly many upscale establishments on the road, mostly at the southern end. The vibrant, lighted signs are a sight to behold, especially in the evening, and many think portions of the road resemble New York City's Times Square.
Most visitors flock to Nathan Road for the shopping opportunities. Boutiques touting the latest fashions are quite popular as are electronics shops, selling a wide variety of digital cameras, music players and cell phones. For upscale electronics shops you better head towards Central though. As is custom in Hong Kong many stores remain open until midnight so you can shop late into the night.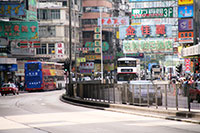 Restaurants and take-out food joints are also plentiful along the Golden Mile. Many offer the best in local cuisine while others are more international in flavor. Be sure to explore the side streets off the main road as you'll find some real gems hidden away there.
If you want to do a bit of sightseeing, landmarks of note along Nathan Road include Kowloon Park, the former Kowloon British School (a declared monument), and the magnificent Peninsula Hotel.