Once the site of a major British military base, Hong Kong's Kowloon Park became a recreational area for residents and visitors in 1970.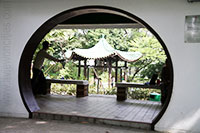 Archway in Kowloon Park
It cost $300 million dollars to re-develop the old Whitfield Barracks, but the results were astounding. Today, it's one of the most visited sites in Hong Kong and occupies one of the city's prettiest areas, overlooking the beautiful and busy harbor.
About the Park
Kowloon Park is quite expansive, especially for Hong Kong, where space to spread out is often a problem. The park covers about 33 acres (13.47 hectares) and offers tons of fun for young and old alike. It's covered with lots of grass and trees, features beautiful gardens, boasts plenty of paved sidewalks for walking or jogging, and there's a large piazza for concerts or other special events.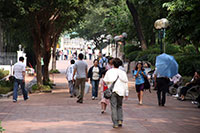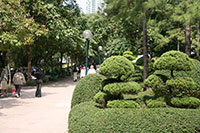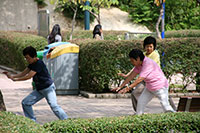 Outdoor Activities and Facilities
Because the weather is usually pleasant in Hong Kong, visitors and locals alike love to congregate at Kowloon Park's outdoor facilities. Some offer active pursuits while others merely provide a quiet and pristine location for a rest after long hours of sightseeing or a stressful day at the office.
Kids will love the two playgrounds located here. The children's playground is just right for kids under nine years old and offers equipment that's just their size as well as a kid-proof playground floor to minimize bumps and bruises. The Discovery Playground is fashioned from restored forts and cannon emplacements and energetic children love exploring and climbing there.
For a quick pick-up game of football (soccer), a mini football field is available. It can also serve as a handball court for those who prefer that sport.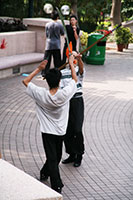 The gardens at Kowloon Park are magnificent and the ideal place to enjoy a stroll. Bring along your camera as they'll be many photo ops along your journey. Check out the Chinese Garden, boasting all the classical elements of such a structure; a maze garden; a spectacular sculpture garden; and a colour garden, adorned with a variety of species of roses.
For bird watchers, the Bird Lake treats visitors to a look at a variety of waterfowl, and the aviary, composed of seven planted enclosures which accommodate over 140 birds of 38 species, is a good place to spot indigenous winged creatures.
The Banyan Court offers lots of shade and a few chess tables. Local senior citizens love gathering there for a challenging game.