More than 125 years old, the Hong Kong Zoological and Botanical Gardens were established in 1871. First opened as only a botanical garden, the zoological garden portion of the title was added in 1975 due to the increase in emphasis on animal displays at the facility.
Plant Exhibits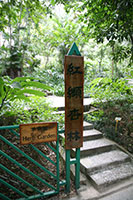 Herb Garden
Though it's certainly not the largest botanic garden in Asia, Hong Kong's small garden is strewn with a huge variety of plants and trees, most from tropical and subtropical regions. Visitors can find species of native origin as well as more exotic botanical examples. You'll see camellias, azalea, rhododendron, roses, and orchids, providing the garden with breathtaking colors. Trees include fig, palm, gum, Camel's Foot, coral, and a variety of other unusual selections.
There's also a fragrant herb garden located in the southern corner of the main garden area and an area that houses a unique shrub collection. A greenhouse is home to 150 native and exotic species including orchids, ferns, bromeliads, climbers and houseplants.
Animal Exhibits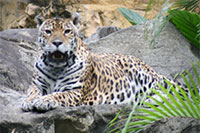 Jaguar
Though animals were kept at the Hong Kong Botanical Gardens in its early days for entertainment purposes, it wasn't until the last few decades of the 20th century that the facility began to recognize the need for concern about animal conservancy and captive breeding programs.
Today, the zoological garden has a mission: (a) To foster an understanding of and appreciation for all living things through education, conservation, research programs and exhibition; and (b) to develop appreciation for the interdependence of nature.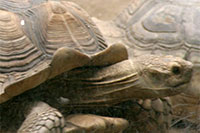 Tortoise
About half the zoological and botanical gardens is now dedicated to animal exhibits. The zoo is home to 500 birds, 70 mammals, and about 70 reptiles. Unique mammals include white-faced Saki, the Golden Agouti, Chinese porcupines, the Bornean orangutan, and the Emperor Tamarin. Reptile-lovers will enjoy a variety of turtles and a few snakes. Birds include flamingos, pheasants, cranes, and wood ducks.
Education
The Hong Kong Botanical and Zoological Gardens offers a number of zoo and horticultural classes and workshops for visitors of all ages. Guided tours are available year round.