Located on the southern shore of Tsim Sha Tsui, the Clock Tower is one of Hong Kong's oldest landmarks. It was built on the site of the old Kowloon Station, which was part of the Kowloon-Canton Railway.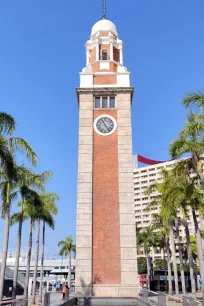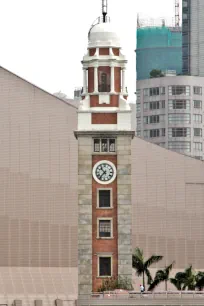 History
Construction of the Kowloon-Canton Railway began a little more than a century ago and was completed in 1910. Construction on the station did not begin until a few years later in 1913 and records show that it was halted due to World War I and the inability to receive materials from Britain for its construction. It was finally completed and opened in 1916.
The original clock had a face on only one side of the tower, as it had been salvaged from another tower that had been recently demolished. Later, however, three additional faces were added on the other sides of the tower. By 1921, all four clocks were working in synchronization. Historians say that the clocks have run ever since, except during the Japanese occupation of the island during World War II.
The station was moved in 1975 to Hung Hom and the main building of the Kowloon Station was demolished. However, concerned citizens rallied for the clock tower to be saved, and they won the fight. The clock continues to offer the right time to passers-by and provides a pretty piece of the Kowloon skyline.
Today
When the Kowloon Station was demolished, room was made on that site for a number of new attractions near the Clock Tower, including the Hong Kong Space Museum and Hong Kong Cultural Centre.
The tower now stands 44 meters (about 144 feet) high and sports a 7-meter- tall (23 feet) lightning rod at its top.