This unique skyscraper, built between 1971 and 1973 was once the tallest building in Asia. It is best known for its unusual round windows.
Building the Jardine House
The current Jardine House was built to replace a building of the same name, which had been constructed in 1948.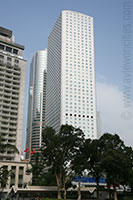 Jardine House
The new structure, a 52-story skyscraper completed in 1973 in a record time of just sixteen months, was more than three times the height of the old 16-story building and, at the time of its completion, was the tallest building in Hong Kong and in all of Asia. (The Hopewell Centre took over that distinction in 1980.)
Jardine House sits on a piece of leased land situated not far from the Star Ferry terminal. It remains a very visible landmark more than forty years after its completion as a deal was made with the government at the time of construction that no other building directly to the north of Jardine House would ever be built tall enough to obstruct its views of the water.
Architecture
Jardine House stands 179 meters (586 feet) tall. Its design was crafted by P&T Architects and Engineers, Ltd., a Hong Kong-based company that is responsible for the creation of many landmark buildings in Hong Kong.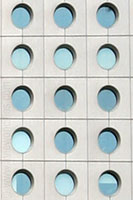 The windows in detail
The most obvious unique feature of the skyscraper is its round windows. This unusual exterior has prompted some to call it "The Porthole Building" and others to refer to it in Chinese as "The House of a Thousand Orifices". It has more than 1,700 round windows in all and engineers say these windows make the building more structurally sound than if it had the usual rectangular windows. The windows also allow for a thinner structural frame for the building.
Jardine House is interconnected with other notable buildings in the area via a central elevated walkway. Those buildings include the International Finance Centre and the Exchange Square complex.
Jardine House is also one of the buildings involved in the local tourism commission's Victoria Harbour Lighting Plan, specifically the spectacular multi-media Symphony of Lights production, which happens most evenings.