The Römer, Frankfurt's town hall, is one of the city's most important historic buildings. The town hall was originally constructed in the fifteenth century but regularly expanded, with the most recent wings dating back to 1908.
Zum Römer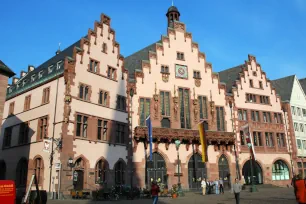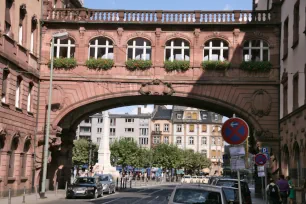 The oldest section of the town hall, bordering Römerberg, consists of three different structures with stepped gables, originally built between the fifteenth and eighteenth century in Gothic style.
The central building, known as 'Zum Römer' gave the town hall its name. 'Zum Römer' means 'at the Roman', referring to the Roman settlements that existed here long before the city of Frankfurt was founded. The building on the left is known as Alt-Limpurg and the one on the right is named Löwenstein.
As was the custom at the time, the town hall served different purposes, both political and commercial.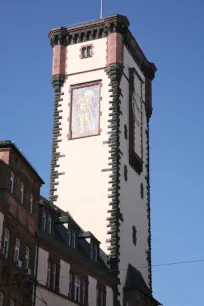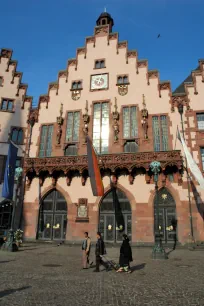 Bridge of Sighs
The town hall was expanded several times, with one late nineteenth century expansion built across the street. A romantic covered red-stone bridge was built to connect the wing to the main building. This bridge is known as the Seufzerbrücke or Bridge of Sighs, named after the famous bridge in Venice.
Towers
In the early twentieth century, when the town hall was expanded with a large administrative wing, a couple of towers were added to the complex. The largest of these towers were nicknamed Langer Franz (Tall Franz) and Kleiner Cohn (Little Cohn). At the time, With a height of seventy meters (230 ft.), Langer Franz was the second-tallest structure of the city, only eclipsed by the cathedral.
The towers were reconstructed after they had been destroyed during the war, but Langer Franz was topped off and now has a flat roof where once stood a romantic rooftop decorated with turrets, coat of arms and a spire. There are plans however to reconstruct the ornate top of the tower, which would bring Langer Franz back to its original height and appearance.
Kaisersaal
Like all buildings on the historic Römerberg, the Römer was destroyed by allied bombardments in 1944 and reconstructed after the war. The Kaisersaal, the large historical hall where many of the kings and emperors of the 'Holy Roman Empire of the German Nation' were coronated, was rebuilt in simplified form. The hall contains portraits of fifty-two German kings and emperors, from Friedrich Barbarossa in 1152 to Franz II, who abdicated in 1806.