The Kaiserdom, Frankfurt's cathedral, was originally built in the thirteenth century. German kings and the emperors of the Holy Roman Empire were crowned in this church from 1356 until 1792.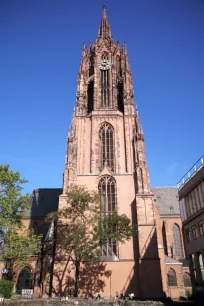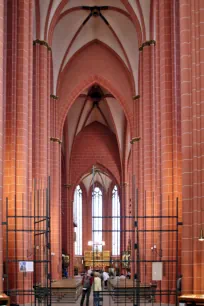 Despite its name, the Kaiserdom is not an actual cathedral, since it has never been the seat of a bishop. However, it received this title in the eighteenth century because German kings and emperors were crowned here.
History
Construction of the Kaiserdom started in 1250 at the site of a seventh-century Merovingian chapel. The church, the fifth at this site, was dedicated to St. Bartholomew. It was modified over time into the splendid Gothic structure that we can see today.
With the Golden Bull of 1356 Emperor Charles IV decreed that the church would be used to elect and crown the new king. From that moment on German kings, and from 1562 on emperors of the Holy Roman Empire, were crowned here. This led to its current popular name, Kaiserdom or literally translated Emperor's Cathedral.
A large fire destroyed much of the church in 1867. It was rebuilt in 1880 only to be destroyed again at the end of World War II. In a span of just four years, from 1950 until 1953, the Kaiserdom was once again rebuilt.
Interior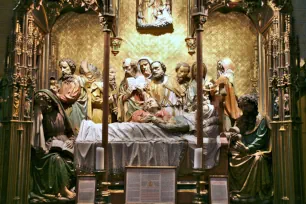 The Gothic church has a symmetrical, cross-shaped floor plan. The high altar at the center of the choir is decorated with a fine Gothic retable from the second half of the fifteenth century.
The retable, which depicts the life of Christ, was originally created for the Katharinenkirche in Salzwedel. The splendid Maria Schlaf Altar, situated in the Mary Chapel, is the only altar which originally graced the Kaiserdom. It was created in 1434 and shows a dying Virgin Mary surrounded by the apostles. The choir stalls, from 1352, are worth seeing as well.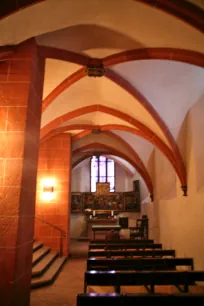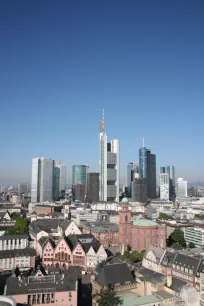 Make sure you don't miss the Wahlkapelle (Election Chapel). The seven electors gathered here to elect a new emperor. Sixteen out of the in total twenty-three German emperors were elected in this small vaulted room.
In front of the choir a white modern altar, installed in 1994, marks the site where the newly elected emperors were crowned. The organ, one of the largest in Germany, is modern as well.
Tower
The cathedral's Gothic tower was added in the fifteenth century. Its current design with a tall spire, reaching a height of 95 meters (312 ft.), dates back to the late nineteenth century when the tower was reconstructed after it was destroyed by fire. The dome is beautifully illuminated at night.
A door on the right of the cathedral gives access to the tower. After climbing 328 steps, you are awarded with a fantastic view over the city of Frankfurt.
Museum
In the cloister of the cathedral is the Dommuseum, where you can find exhibits with relics related to the history of the Dom, including objects from a Merovingian grave unearthed in the cathedral's central nave.