Römerberg is the central and most beautiful square in Frankfurt's Altstadt (Old Town). For most visitors, this is the first stop on their trail through the inner city of Frankfurt.
Trade Fairs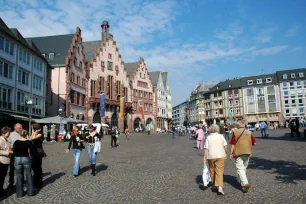 Starting in the twelfth century, large trade fairs were held on the Römerberg, drawing visitors and merchants from as far as Italy and France. The markets eventually developed into the famous Frankfurter Messe and some of the fairs like the Frankfurt Book Fair are still being held, although they moved a long time ago from the square to new facilities.
The Römerberg was also the site of all kinds of festivities, most importantly those celebrating the coronation of the Holy Roman Emperors, who were crowned in the town hall, the 'Zum Römer' or Römer in short.
Ostzeile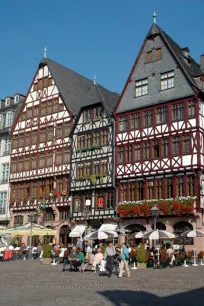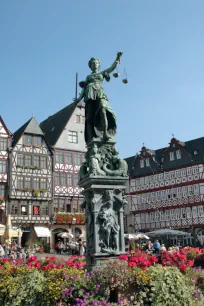 The east side of the square, opposite the Römer is known as the Ostzeile. This row of six picturesque half-timbered houses are reconstructions of the original fifteenth- and sixteenth-century houses, most of which were rebuilt or expanded in the eighteenth century. In March 1944 bombardments obliterated the whole historic district, including the Römerberg.
Some of the historic buildings, like the Römer, were reconstructed soon after the war. The Ostzeile however wasn't rebuilt until 1981-1983, when the houses were reconstructed following historical models.
Each house has its own name, from left to right they are Zum Engel (At the Angel) at no. 28, Goldener Greif (Golden Griffin) at no. 26, Wilder Mann (Wild Man) at no. 24, Kleiner Dachsberg-Schlüssel at nos. 20-22 (Little Dachsberg), Großer Laubenberg (Large Laubenberg) at no. 18 and finally Kleiner Laubenberg (Little Laubenberg) at no. 16.
Fountain of Justice
The Gerechtigkeitsbrunnen (Fountain of Justice) at the center of the square was built in 1543. The statue of goddess Justitia, holding the scales of justice but without her usual blindfold, faces the Römer.
Historisches Museum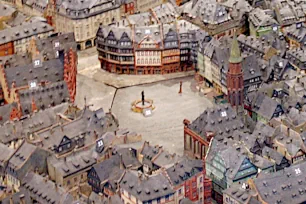 Models of the Römerberg can be seen at the Historisches Museum, just south of the Römerberg. The museum covers the history of Frankfurt, including the destruction after the war, with displays of artifacts from the Middle Ages to the twentieth century.
There are several models of the city on display, with one showing the city during the Middle Ages and two others showing the area around the Kaiserdom, one just after the Second World War and another after its post-war reconstruction.
Alte Nikolaikirche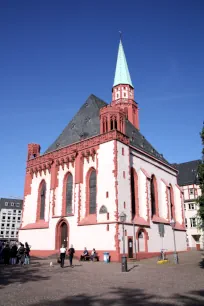 Right in front of the Historisches Museum is the Alte Nikolaikirche, a small early Gothic church which was possibly built as early as in the eleventh century. In 1290 the small church was promoted to a court chapel for the emperors. In the fifteenth century, the church became the official chapel of the city council.
A carillon of thirty-five bells chimes every day at 9:05, 12:05 and 17:05.