What started eight centuries ago as a modest market at the Römerberg developed into one of the largest trade fairs in the world. The Frankfurt Messe plays host to large trade fairs such as the Frankfurt Book Show and the IAA, an international motor show.
Exhibition Grounds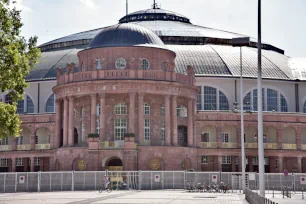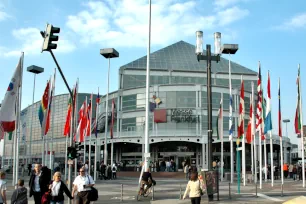 The Frankfurter Messe occupies some sixty hectares (150 acres) just north of Frankfurt's Hauptbahnhof (Central Station). The oldest of the ten exhibition halls is the Festhalle, built in 1909. The domed structure with a steel frame was designed by Friedrich von Thiersch, a German architect.
Most of the other buildings on the Messegelände (exhibition grounds) are more modern and were designed by renowned architects such as Oswald M. Ungers (Halle 9 and the one-hundred-meter-long glass domed Galleria, 1980-1983), Nicholas Grimshaw (Halle 3, 2001) and Helmut Jahn (Messeturm, 1991). A more recent addition is Exhibition hall 11, a thirty-meter-high (98 ft.) hall with 23,860 square meters of exhibition space which opened in 2009.
The complex also includes a large congress center, which is conveniently connected to a hotel and an exhibition hall.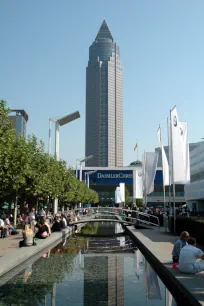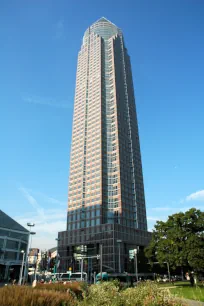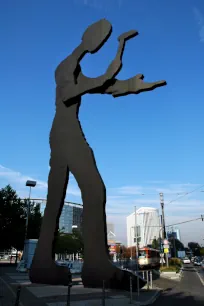 Trade Fairs
Several million people come to Frankfurt each year to visit one of the many trade fairs that are held at the Frankfurt Messe, covering a wide range of products, from textile, paper, music and cars to Christmas decorations.
The most famous trade fair is the Frankfurter Buchmesse, which was founded in 1485. It is still the largest of its kind. Other major fairs held here include Automechanika, a trade fair for the Automotive Industry and Ambiente, a trade fair for design and homestyle.
Messeturm
Several high-rise buildings were erected at and near the exhibition grounds of the Messe Frankfurt. The most notable, the Messeturm, was named after the exhibition center. It is located right near the entrance of the Messe.
The 257-meter-tall (843 ft) tower was designed by Helmut Jahn in a postmodern style. For a short time after its completion in 1991, it was the tallest building in Europe, until the Commerzbank Tower eclipsed its height by a mere two meters in 1997.
Hammering Man
At the foot of the Messeturm stands the Hammering Man, a large kinetic sculpture created by Jonathan Borofsky. The black sculpture, which seems to be hammering at a constant pace, symbolizes the working man. It is made of steel and stands 21.5 meters (71 feet) tall.
The Hammering Man was erected here in 1991 on the occasion of the completion of the Messeturm. The sculpture is part of a series; other Hammering Man sculptures can be found in cities such as Seattle, New York and Seoul.