The Palmengarten is a large park situated to the northwest of the inner city of Frankfurt. It was created in 1868 by a group of citizens for both scientific and recreational purposes.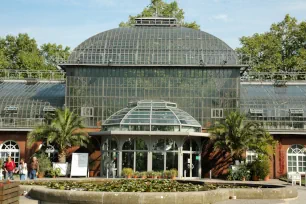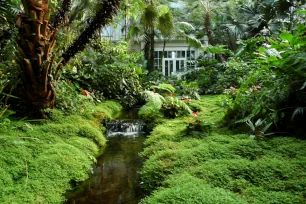 The gardens, which cover an area of about twenty hectares (fifty acres) contain several greenhouses as well as beautiful flowerbeds and a large lake.
History
In 1868, landscape gardener Heinrich Siesmayer bought a large collection of exotic plants which had been acquired by duke Adolph Nassau. Siesmayer's goal was to create a garden with exotic plants. Franfurt citizens helped him to achieve his goal by funding the creation of the garden, on which subsequently a Palm House was built. Soon after, in 1871, the Palmengarten opened to the public.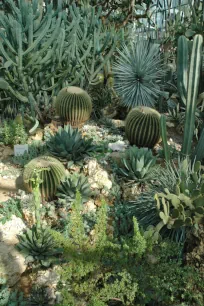 Greenhouses
The greenhouses in the Palmengarten are home to a wide variety of tropical and subtropical plants. Palm trees and subtropical plants are housed in the Palmenhaus (Palm House), one of the world's largest greenhouses. The elegant glass structure was originally built in 1869 and rebuilt in 1929. In the modern, five thousand square meter (54,000 sq ft) large Tropicarium, tropical plants are shown in eight different biotopes including the desert, rain forest, monsoon and mangrove. The Palmengarten includes other glass houses such as the Blütenhaus (Blossom House), where decorative plants are displayed.
More sights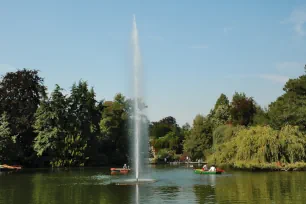 Outside the greenhouses, there's more flora and fauna to discover in the many gardens. Among others there's a rock garden, a rhododendron garden and the obligatory rose garden. Exhibitions held throughout the year such as the spring flower exhibition ensure there's always something new to discover.
There are also open grounds decorated with flowerbeds, fountains and statues. Boats can be rented at the large lake in the southwest corner of the Palmengarten. Children will also have fun here thanks to the playground and the miniature railway – the Palmengarten Express – that drives visitors around the expansive grounds.