The Frankfurt Zoological Garden, situated just east of the inner city, is one of the most popular attractions in Frankfurt. The zoo is home to many popular animals including gorillas, lions and tigers.
History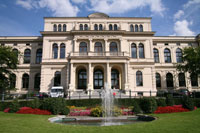 Zoo Society Building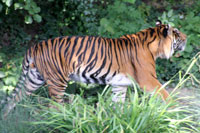 Sumatran Tiger
The Frankfurt Zoo was founded in 1858 and as such is the second-oldest zoo in Germany. The zoo expanded quickly and in 1874 it moved to a more spacious site at the Alfred-Brehm-Platz, where it is still located today.
The zoo suffered badly during World War II. Only twenty animals had survived and in 1945 the Americans decided to close the zoo. Bernhard Grzimek, who worked as a veterinarian during the war, convinced the government to keep the zoo open. He organized the reconstruction of the grounds, brought in new animals from around the country and lured in visitors by organizing events and festivals. Under his leadership the Frankfurt Zoo flourished and his many TV appearances gave the zoo plenty of publicity.
The Zoo's Inhabitants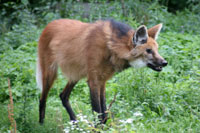 Maned Wolf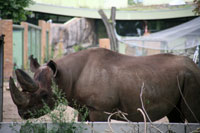 Rhinoceros
Today the Frankfurt Zoo is one of the most important in the country, with more than four thousand animals living here, representing some five hundred species.
Many of the largest and most popular exotic animals can be seen here, including orangutans, gorillas, bonobos, lions, tigers, wolves, giraffes, seals, crocodiles, rhinoceros and hippopotamuses. The zoo also specializes in several rare species including okapis and also coordinates breeding programs to save species that are almost extinct such as the rusty-spotted cat.
The animals' enclosures are regularly modernized, and you'll find few bars separating visitors from the residents. There's even a bird aviary – the Vogelbüsche – where you can walk inside the enclosure. Children are also invited to the petting zoo, where they can touch the animals.
Some Highlights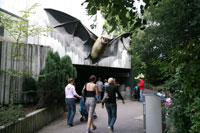 Nocturnal House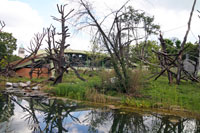 Borgori Forest
One of the highlights in the Frankfurt Zoo is the Grzimek-Haus, a nocturnal house where, after your eyes have adjusted to the dim light, you can see bats and other nocturnal animals. The night and day cycle have been reversed, so that visitors can see the animals when they are active.
The zoo is also known for its Exotarium, where storms are simulated every day. Here you find amphibians – such as geckos – and reptilians, including a large contingent of crocodiles and turtles.
The expansive Borgori Forest Monkey Enclosure, modernized in 2008, features a waterfall and a gorilla tunnel. A new bear enclosure, with sloth bears and sun bears, opened in 2013.