At 259 meters (850 ft.) the Commerzbank Tower was the tallest building in Europe when it was completed in 1997. The building is also considered the first 'ecological' skyscraper, thanks to its use of sky gardens and energy-saving technologies.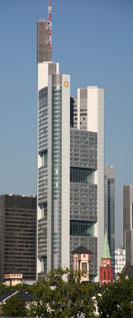 Commerzbank Tower
Frankfurt is one of only a handful of European cities with a sizeable cluster of skyscrapers in its downtown area, where the construction of high rise buildings is often not accepted due to the historical value of the existing buildings. Frankfurt's center however was almost completely destroyed by bombing raids in the Second World War. Only a few landmarks have been rebuilt.
Mainhattan
This lack of historical buildings allowed the construction of skyscrapers, which started at the end of the 1960s. The first generation of skyscrapers – mostly bland gray boxes – still met a lot of opposition, but nowadays, the more attractive modern buildings are generally accepted. The current cluster of high-rises has given Frankfurt such nicknames like Mainhattan and Chicago am Main.
Frankfurt's Tallest
The city's tallest skyscraper is currently the Commerzbank Tower. Its height of 259 meters (850ft) makes it about two meters taller than the Messeturm, Frankfurt's second-tallest building.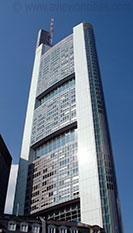 The Commerzbank Tower, built in 1997, was the tallest building in Europe until December 2003, when the Neo-Stalinist Triumph Palace in Moscow overtook the Commerzbank tower as Europe's tallest by structural height. That is excluding the Commerzbank's large mast, which brings its total height to just over 300 meters (984ft). This mast is illuminated at night in a constantly changing light scheme.
Green Skyscraper
When the building was planned in the early 1990s Frankfurt's Green Party, who governed the city together with the socialist party, encouraged the Commerzbank to design a 'green' skyscraper.
The result was the world's first so-called ecological skyscraper: besides the use of 'sky-gardens' environmental- friendly technologies were employed to reduce energy required for heating and cooling.
Sky Gardens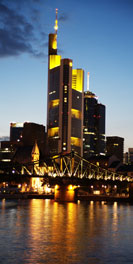 The tower at dusk
The Commerzbank Tower is shaped as a sixty-meter wide rounded equilateral triangle with a central, triangular atrium. At nine different levels, the atrium opens up to one of the three sides, forming large sky gardens.
These open areas allow more natural light in the building, reducing the need for unecological artificial light. At the same time, it ensures offices in the building's two other sides have a view of either the city or the garden.
In order to eliminate the need for supporting columns in the sky gardens, the building was constructed in steel instead of the conventional (and cheaper) concrete. It was the first skyscraper in Germany where steel was used as the main construction material.