The Paulskirche is a church built between 1789 and 1833 at the center of Frankfurt's Old Town. The church was the seat of the first freely elected German parliament, which gathered in the building's circular hall.
Cradle of German Democracy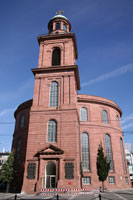 Paulskirche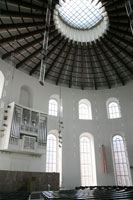 Main Hall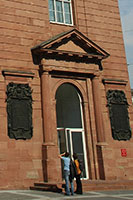 Commemorative
plaques
The Paulskirche is a symbol of the German democratic movement. In this building the Vorparlament held its meetings, from March 31, 1848 until April 3, preparing the elections for the German National Assembly, the first freely elected parliament of Germany.
The National Assembly was inaugurated in the Paulskirche on the 18th of May, 1848. The assembly drafted a constitution for a unified Germany and most of the many German states accepted the constitution.
Austria and Prussia however withdrew and when the Prussian king refused to accept the imperial crown in April 1849 the union collapsed.
Construction
Construction of the neoclassicist Paulskirche (St. Paul's Church) started in 1789 but it took until 1833 before it was completed. The brick building has a circular nave with a single adjoining clock tower. It was used as a protestant church until the meetings of the Vorparlament were held here. Religious services resumed in 1852.
Postwar Reconstruction
During World War II, allied bombings completely destroyed the Paulskirche together with most of Frankfurt's historic center. Because of its historic significance, the Paulskirche was the first building reconstructed after the war.
Due to cost restraints shortly after the war, the interior was built in a modern style and decoration was kept to a minimum. The Paulskirche reopened on the one hundredth anniversary of Germany's first parliament. Today the building is only used for public functions and special events.