One of the premiere shopping areas in Germany, Frankfurt's Zeil offers a plethora of shopping opportunities, from huge department stores to chic boutiques.
Shopping on the Zeil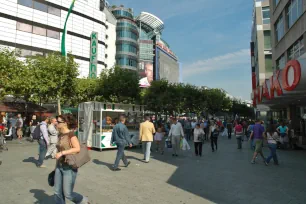 For more than half-a-century, the Zeil – Frankfurt's main shopping district – has been thrilling locals and visitors who enjoy top-notch shopping experiences. Often dubbed "The Golden Mile" or "The Fifth Avenue of Germany", the Zeil has something for everyone.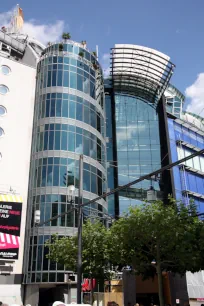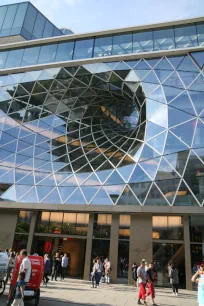 The Zeilgalerie
Located on the Zeil, the Zeilgalerie is equally renowned for its architecture as for its shops. This shopping center, opened in 1992, is ten stories tall and features a unique spiral-shaped interior. Architects Kramm and Streigal decided to make the interior floors slope so that a visitor is able to walk to the top of the building without stairs or escalators. Instead, shoppers can get from top to bottom of this modern glass and steel structure via centrally-located escalators (nearly a dozen) or a ramp, making it very accessible for the handicapped.
This shopping center includes a number of stores peddling electronics and music as well as clothing and is home to several restaurants. A fun-to-visit rooftop terrace provides a panoramic view of the city.
PalaisQuartier
Completed in 2010, the PalaisQuartier is located directly on the Zeil. The project incorporates an existing Baroque-style city palace (the rebuilt Thurn and Taxis Palais, built in the early eighteenth century but mostly demolished during WWII) with modern architecture and amenities.
A futuristic office tower – the 135-meter-tall Turm am Thurn und Taxis – and hotel tower – the Hotelturm – are included, as well as a large shopping complex. About 48,000 square meters (500,000+ sq ft) are dedicated to retail space at the six-story MyZeil, a shopping complex formerly known as Zeilforum. MyZeil has an eye-popping glass facade along the Zeil in the shape of a vortex. The interior is even more spectacular, with irregularly shaped ramps and glass columns.