The Alte Oper (Old Opera) was originally Frankfurt's Opera House. Heavily damaged during WWII, the building was reconstructed and opened as a concert hall in 1981.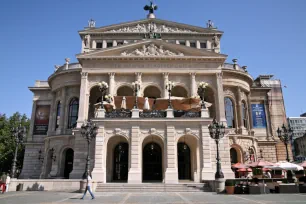 On the 20th of October 1880, after seven years of construction, Frankfurt's Opera House was officially inaugurated.
The Opera house
The Opernhaus as it was called was paid for by Frankfurt citizens and designed by the Berlin architect Richard Lucae. The panther quadriga on the Renaissance-style building recalls the famous Semper Opera House in Dresden.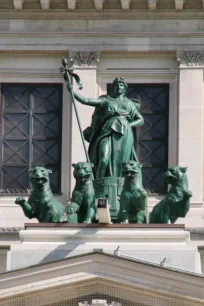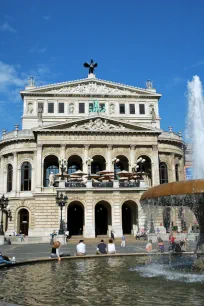 At the time, the thirty-four-meter tall building featured a large auditorium and a sumptuous staircase, known as the 'Imperial Staircase'. The auditorium could seat more than two thousand people. The Frankfurt Opernhaus was one of Germany's most important opera houses; many famous works premiered here, including Carl Orff's famous Carmina Burana.
Bombardments and Reconstruction
In March 1944 the Opera House burned out after bombardments set the building on fire. In 1952 measures were taken to prevent the building from collapsing entirely, but it took twenty-four years before reconstruction of the Opera House was finally approved by the City Council. There was even talk of demolishing the ruins and replacing it with modern office buildings, but thanks to an action group formed by citizens supporting a reconstruction of the former landmark, these plans were never realized.
A Multipurpose Complex
The Opernhaus officially reopened on August 28, 1981. It was renamed to 'Alte Oper' since Frankfurt had already built a new Opera House in 1951. While the exterior and the lobby were rebuilt faithful to the original, most of the interior is built as a modern multipurpose complex with concert halls and a congress center. The building has several halls, including the Grosse Saal with a seating capacity of 2,500. The Mozart-saal can accommodate another 700 people.
Location
The Alte Oper is located at the Opernplatz, a square at the north-west corner of Frankfurt's inner city.