Venice's beautiful and legendary bridge is a must-see for anyone visiting Italy's most romantic city.
Background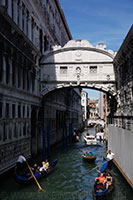 Bridge of Sighs
Venice's famous Bridge of Sighs was designed by Antonio Contino and was built at the beginning of the seventeenth century. Spanning the Rio di Palazzo (Palace River), the bridge
was intended to connect the Old Prison and interrogation rooms in the Doge's Palace to the New Prison, which was situated directly across the river.
There are a few theories as to how the bridge got its name. The first one involves the prisoners that walked across the bridge on their way to the executioner. The prisoners would "sigh" as they crossed the bridge, probably catching their last glimpse of the outside world, many believed.
Even though by the time the bridge was built summary executions at the hands of the inquisitors had ceased, many prisoners probably did cross the bridge and may have not seen freedom again… at least not for many years.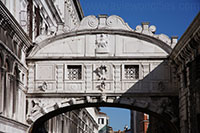 Another story says that if a couple kisses under the bridge while drifting below on a gondola at sunset, they will enjoy eternal love. Thus, the "sighs" are said to come from lovers who are overwhelmed by the romance of the whole scene.
This romantic view was created by the Poet Lord Byron with his writings: "I stood in Venice on the Bridge of Sighs, a palace and prison on each hand".
The Bridge
Indeed, the Bridge of Sighs is a beautiful sight, stretching high above the canal. It is generally known as one of the finest examples of bridge architecture in the world.
Italian Renaissance in style, the 11 meter (36ft) wide bridge is made of white limestone and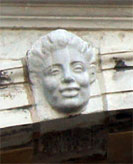 The only smiling
mascaron
on the bridge
two windows with stone bars sit at the summit of the enclosed bridge. The bridge took about two years to complete, with construction starting in 1600.
Be sure to notice the many mascarons – sculptures depicting sad or angry faces – as you cross under the bridge on a gondola ride.
Several other covered bridges have taken on the name 'bridge of sighs', such as the bridges in Oxford and Cambridge (both in England) as well as a bridge at the Römer in Frankfurt, Germany and at the Allegheny County Courthouse in Pittsburgh, PA.