The Scuola di San Marco was one of six confraternities – Catholic lay organizations created for the purpose of promoting works of Catholic charity – that played an important role in Venetian religious and social life in the thirteenth century and beyond.
History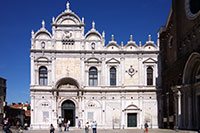 Scuola Grande di San Marco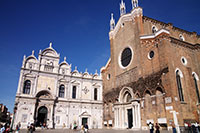 Campo Santi Giovanni e Paolo
Scuola di San Marco was founded in 1260 for humanitarian purposes. Originally housed in a Gothic building that burned to the ground in the late 15th century, the building now known by this name was designed in 1488 by architect Pietro Lombardo and, strangely, his arch-rival Mauro Codussi, who completed the second half of the facade from 1490-1495. All the work was completed with funds donated by members of the confraternity. It occupies a prominent spot in Venice, facing the Campo San Giovanni e Paolo, one of the largest squares in the city.
Scuola di San Marco functioned only as a headquarters for the confraternity until 1808, when it became a military hospital due to the fact that Napoleon suppressed the confraternities during his reign. In 1819, it became a civic hospital and remains as such today. Because of that, little of what's inside is original.
Architecture
Though two architects were responsible for the design of the building's facade, the result was much more cohesive than one might expect. Though Renaissance classicism is the prevailing style, the facade also has a number of Byzantine touches, including arches and niches, not unlike many other Venetian buildings. Centuries later, it was discovered that some of the facade was gilded in gold leaf, an indication that its members spent a lot of money on the construction of this building, which honored the patron saint of Venice.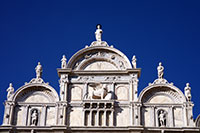 Detail of the facade
The facade is divided into two sections, each with its own entrance door. The right portal is flanked by sculpted reliefs of the life of St. Mark, attributed to the architect's son, Tullio. And though Codussi was called upon to finish the upper portion of the facade, the Lombardis continued to supply ornaments and sculptures for the building, of which Codussi gladly made use, thus the consistency between the upper and lower portions of the structure, which were fashioned from marble and Istrian stone.
Extensive renovation work was completed on Scuola di San Marco from 2000 to 2004. This work was undertaken with the help of many local and worldwide foundations interested in saving Venice and its treasured landmarks.